Evropeyskaya Elektrotekhnica launched state testing of the block of fuel oil preparation at the pilot boiler station in Murmansk
17.03.2020
Evropeyskaya Elektrotekhnica launched state testing of the block of fuel oil preparation at the pilot boiler station in Murmansk
March 17, 2020. Moscow — On March 13, as part of pilot operation, state testing of the block of fuel oil preparation was officially launched at the pilot boiler station in Murmansk. The testing program is to be implemented within 30 days.
This equipment was developed and produced by PJSC Evropeyskaya Elektrotekhnica, within the Process Systems division. It is designed to solve the following tasks:
significant improvement of the environment due to reduced hazardous air emissions from boilers/furnaces that operate on fuel oil, thanks to the more complete combustion of fuel that is prepared using our equipment,

10–15% fuel oil savings of total fuel consumption (specific savings depend on a number of local conditions, fuel combustion technology, a specific grade of fuel oil and its water cut level; the actual economy level will be determined following the results of pilot operation of the unit).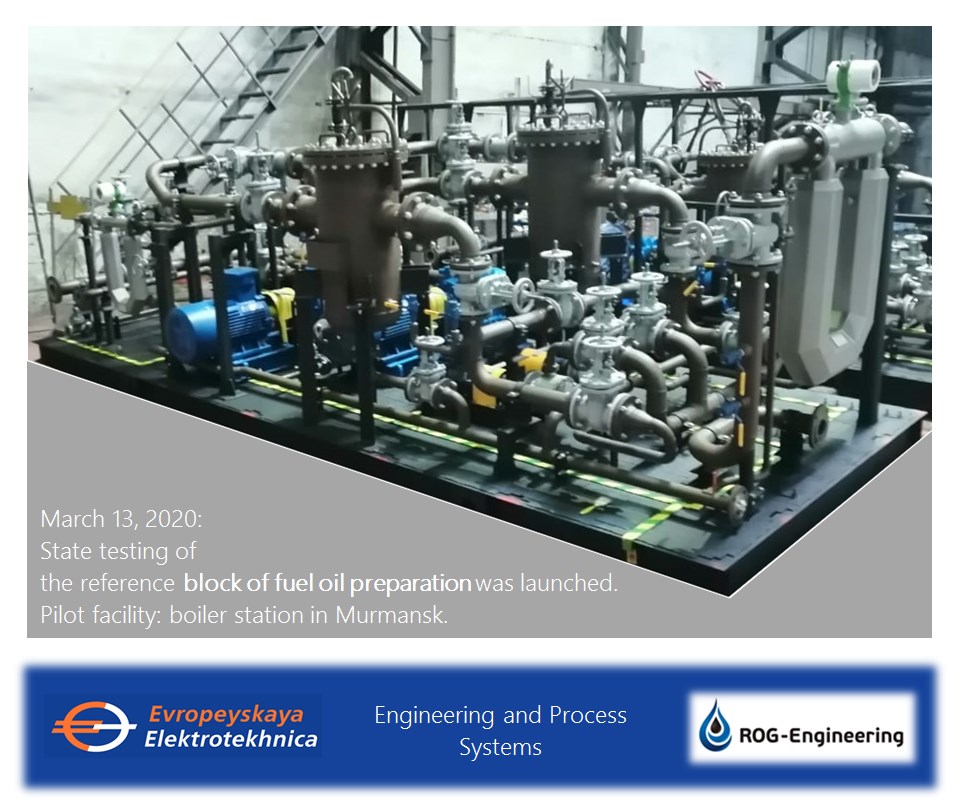 For more information on our family of innovative units for the electric power sector and oil refining, follow the link (see page 9; sorry, it is in Russian only).
On March 13, the heads of the Murmansk Regional Government and the Murmanenergosbyt management took part in the event.
Ilya Kalenkov, General Director of PJSC Evropeyskaya Elektrotekhnica commented on this event: "For some northern and remote regions of our country, using fuel oil is the only solution to provide operation of industrial facilities and heating of housing stock. It is clear that a serious reduction of the number of environmental problems caused by fuel oil combustion together with significant fuel savings creates a very attractive offer for regional authorities.
During testing, stability of the parameters of the water-in-oil emulsion produced by our unit will be constantly monitored. Fuel savings will be estimated, as well as the impact of the emulsion, which is actually a new type of fuel, on the boiler equipment. The optimal operating process of the unit together with the equipment of the boiler station will be determined. The testing results are to be summarized in mid-April 2020.
We look forward to the successful testing of our innovative equipment in Murmansk. This is a reference unit for us in Russia. Confirmed correctness of our project solutions by real operation will open a large-scale market for this technology in a range of Russian regions. We hope that Russian positive experience will be a significant addition to our successful foreign experience in the Middle East, where we have already proved the effective operation of this technology at the cement enterprise."
About Evropeyskaya Elektrotekhnica Group of Companies
• Evropeyskaya Elektrotekhnica Group of Companies (MOEX: EELT) offers comprehensive solutions in the field of engineering and technological systems for industrial, construction and infrastructural purposes: low and medium voltage distribution equipment, low current systems, lighting systems, industrial electric heating systems and equipment for the Oil&Gas and petrochemical industries.
• As a Russian joint-stock company with high corporate governance standards and financial sustainability, the Company's Mission is to improve people's quality of life with its entrepreneurial vigour and engineering competencies.
• The Company was founded in 2004 and unites a distribution center, engineering departments, an electrical laboratory and specialized production facilities. The company is one of the largest electrical equipment distributors in the Russian Federation and an industrial partner of leading companies on the international engineering market.
• The Company's logistics capabilities include delivery (including non-standard and oversize load) to customers throughout Russia, including hard-to-reach Northern areas, as well as to Central Asia, North Africa and the Middle East.
• The Company has its own production of the following equipment:
Complete transformer substations;

Medium voltage units;

Low voltage panels of up to 6,300A (including metro solutions);

Electric lighting systems;

Industrial electric heating systems;

Cabling and wiring products.
• Areas of application of the Company's competences:
Oil&Gas industry;

Electric power sector;

Peaceful atom,

Steel and mining industry;

Engineering;

Transport infrastructure, water supply and sanitation.
• Evropeyskaya Elektrotekhnica's customers include major Russian companies: Rosneft, Gazprom, NOVATEK, LUKOIL, Sibur and Nizhnekamskneftekhim. Supplies were successfully implemented for the following projects: Power of Siberia, Yamal LNG, Smolensk NPP, Data Center of Sberbank of Russia, the Domodedovo, Sheremetyevo, and Pulkovo Airports, etc.
• New areas of Company activity starting from 2018 include development and production of the following:
Modular equipment for the Oil&Gas and petrochemical industries (Company subsidiary ROG-Engineering, Ufa, Republic of Bashkortostan, Russian Federation);

Industrial specialized solutions for metro substations (currently being consolidated into the Group's structure: Metrotonnel, Moscow, Russian Federation);

Industrial electric heating systems.
• Key financial indicators of PJSC Evropeyskaya Elektrotekhnica (IFRS):
Revenue

(RUB billion)

Profit for the period

(RUB million)

Assets

(RUB billion)

9 months of 2019

2.60

239.2

1.72

2018

3.29

293.1

1.29

2017

2.60

134.7

1.15
350 people – the personnel headcount.
EELT – the trading code for common shares of PJSC Evropeyskaya Elektrotekhnica on the Moscow Exchange, where shares are traded since September 2017.
BBB- (RU), stable outlook – the credit rating of PJSC Evropeyskaya Elektrotekhnica is at the investment level; the rating confirmed by ACRA on January 30, 2020.
Contacts:
PJSC Evropeyskaya Elektrotekhnica
Tel.: +7 (800) 600-71-18
Mailing address: 1 Lyotchika Babushkina Street, Building 3, Moscow, 129344
| | |
| --- | --- |
| Press contacts | Contact for investors and analysts |
For more information, please contact:
Stanislav Martyushev
Director for Corporate Communications and Investor Relations
PJSC Evropeyskaya Elektrotekhnica
Tel. +7 (495) 660-71-18 ext. 164
Find us on social media:
FACEBOOK TWITTER INSTAGRAM VKONTAKTE LINKEDIN YOUTUBE