Evropeyskaya Elektrotekhnica Dubna received the certificate of a SEZ Dubna resident
12.03.2020
Evropeyskaya Elektrotekhnica Dubna received the certificate of a SEZ Dubna resident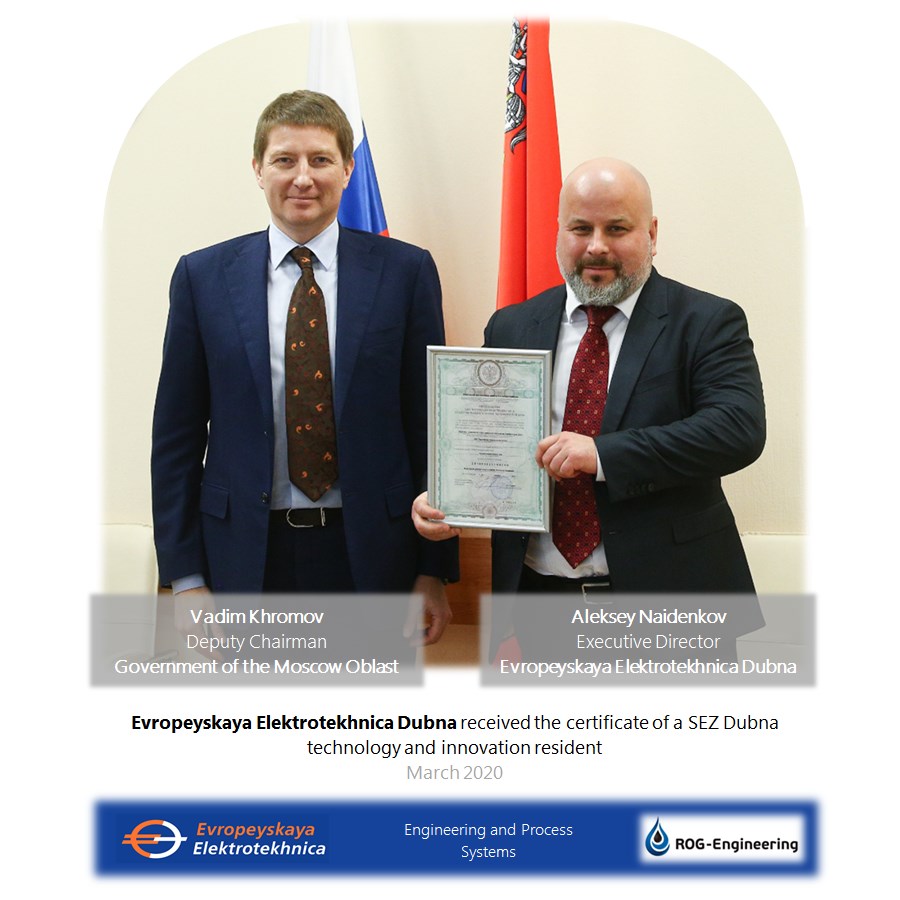 The awarding of the certificate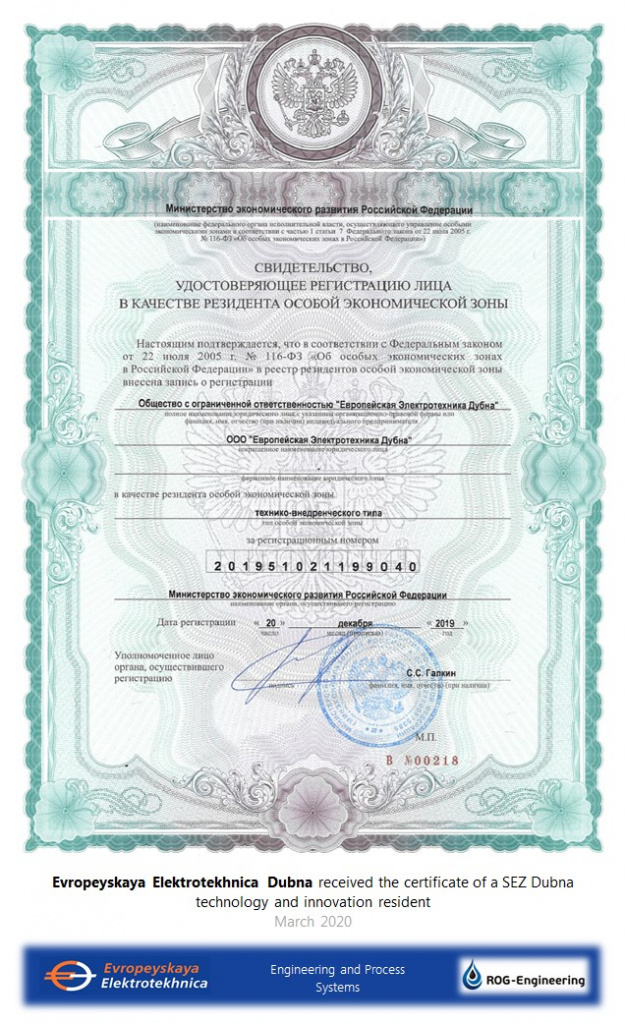 Certificate of a SEZ resident presented to Evropeyskaya Elektrotekhnica Dubna LLC (full resolution: link)
Context:
On November 21, 2019, the Moscow Oblast government's board of experts approved the business plan of Evropeyskaya Elektrotekhnica Dubna LLC, a subsidiary of the Evropeyskaya Elektrotekhnica Group of Companies. The agreement with the Russian Federation's Ministry of Economic Development on the implementation of the resident company's technical and innovative activities will be concluded in Q1 2019.
The Company's investment project provides for the construction of a 5,000 sq.m. facility on the SEZ territory for the production of state-of-the-art electric switchboard equipment, electric heating systems and Oil&Gas equipment. The planned amount of investment in the project is over RUB 335 mln.
Funds will be attracted through proprietary investments and financial resources drawn from the Evropeyskaya Elektrotekhnica Group of Companies. The facility plans to employ 90 people.
FOR REFERENCE:
The Dubna Technical-Innovative Special Economic Zone was created in 2005 on the territory of the town of Dubna (Moscow Oblast) in accordance with Russian federal legislation. The SEZ comprises three sections with a total area of 187,7 hectares.
Technical-innovative special economic zones are created with the aim to increase Russian presence in global high-tech markets, and refine concentration mechanisms for intellectual and other resources in a specific area for achieving prioritized scientific and technological objectives, under contemporaty conditions.
Areas of activity developed by SEZ Dubna:
Information technology,

Nuclear physics and nanotechnology,

Bio- and medical technologies,

Composites,

Design of complex process systems.
As of the end of 2019, there were 170 resident companies registered in SEZ Dubna and 18 enterprises, and another 20 investors are carrying out construction of facilities. Investments in projects implemented by the resident companies amounted to RUB 24 billion, with 4,200 jobs created.
Dubna is located 120 km north of Moscow. The town has a population of about 70,000 people; 13,000 residents have a higher education and over 1,000 have PhDs. There are about 300 Doctors of Science.
The International Intergovernmental Organization Joint Institute for Nuclear Research, the largest science center in Russia, is located in Dubna.
In total, over 200 enterprises carry out their high-tech projects in the town.
In 2019, SEZ Dubna won in three categories of the international rating by the authoritative fDi Magazine. For the second year in a row, it came in first place among Russian SEZs in terms of investment attractiveness in the National Rating.
In total, there are four special economic zones in Moscow Oblast — in the urban districts of Dubna, Fryazino, Stupino and Kashira.
Sources: h ttp: //dubna-oez.en/about_oez
About Evropeyskaya Elektrotekhnica Group of Companies
• Evropeyskaya Elektrotekhnica Group of Companies (MOEX: EELT) offers comprehensive solutions in the field of engineering and technological systems for industrial, construction and infrastructural purposes: low and medium voltage distribution equipment, low current systems, lighting systems, industrial electric heating systems and equipment for the Oil&Gas and petrochemical industries.
• As a Russian joint-stock company with high corporate governance standards and financial sustainability, the Company's Mission is to improve people's quality of life with its entrepreneurial vigour and engineering competencies.
• The Company was founded in 2004 and unites a distribution center, engineering departments, an electrical laboratory and specialized production facilities. The company is one of the largest electrical equipment distributors in the Russian Federation and an industrial partner of leading companies on the international engineering market.
• The Company's logistics capabilities include delivery (including non-standard and oversize load) to customers throughout Russia, including hard-to-reach Northern areas, as well as to Central Asia, North Africa and the Middle East.
• The Company has its own production of the following equipment:
Complete transformer substations;

Medium voltage units;

Low voltage panels of up to 6,300A (including metro solutions);

Electric lighting systems;

Industrial electric heating systems;

Cabling and wiring products.
• Areas of application of the Company's competences:
Oil&Gas industry;

Electric power sector;

Peaceful atom,

Steel and mining industry;

Engineering;

Transport infrastructure, water supply and sanitation.
• Evropeyskaya Elektrotekhnica's customers include major Russian companies: Rosneft, Gazprom, NOVATEK, LUKOIL, Sibur and Nizhnekamskneftekhim. Supplies were successfully implemented for the following projects: Power of Siberia, Yamal LNG, Smolensk NPP, Data Center of Sberbank of Russia, the Domodedovo, Sheremetyevo, and Pulkovo Airports, etc.
• New areas of Company activity starting from 2018 include development and production of the following:
Modular equipment for the Oil&Gas and petrochemical industries (Company subsidiary ROG-Engineering, Ufa, Republic of Bashkortostan, Russian Federation);

Industrial specialized solutions for metro substations (currently being consolidated into the Group's structure: Metrotonnel, Moscow, Russian Federation);

Industrial electric heating systems.
• Key financial indicators of PJSC Evropeyskaya Elektrotekhnica (IFRS):
Revenue

(RUB billion)

Profit for the period

(RUB million)

Assets

(RUB billion)

9 months of 2019

2.60

239.2

1.72

2018

3.29

293.1

1.29

2017

2.60

134.7

1.15
350 people – the personnel headcount.
EELT – the trading code for common shares of PJSC Evropeyskaya Elektrotekhnica on the Moscow Exchange, where shares are traded since September 2017.
BBB- (RU), stable outlook – the credit rating of PJSC Evropeyskaya Elektrotekhnica is at the investment level; the rating confirmed by ACRA on January 30, 2020.
Contacts:
PJSC Evropeyskaya Elektrotekhnica
Tel.: +7 (800) 600-71-18
Mailing address: 1 Lyotchika Babushkina Street, Building 3, Moscow, 129344
| | |
| --- | --- |
| Press contacts | Contact for investors and analysts |
For more information, please contact:
Stanislav Martyushev
Director for Corporate Communications and Investor Relations
PJSC Evropeyskaya Elektrotekhnica
Tel. +7 (495) 660-71-18 ext. 164
Find us on social media:
FACEBOOK TWITTER INSTAGRAM VKONTAKTE LINKEDIN YOUTUBE