Evropeyskaya Elektrotekhnica confirms its status of member of Golden Club Prisma, a club for the top partners of Schneider Electric company in Russia
05.03.2020
Evropeyskaya Elektrotekhnica confirms its status of member of Golden Club Prisma, a club for the top partners of Schneider Electric company in Russia
March 5, 2020. Moscow – PJSC Evropeyskaya Elektrotekhnica (hereinafter, the "Company" or "Group"), one of the leading companies in the Russian engineering market, represented by its subsidiary operating company Engineering Center Evropeyskaya Elektrotekhnica LLC, has confirmed the status of member of Golden Club Prisma, a club for the top partners of the company Schneider Electric in Russia.
Evropeyskaya Elektrotekhnica has been a certified industrial partner of Schneider Electric since 2017. Being a member of Golden Club Prisma confirms Evropeyskaya Elektrotekhnica's competences in the field of developing, manufacturing, and high-quality assembly of electric switchboard equipment for Schneider Electric.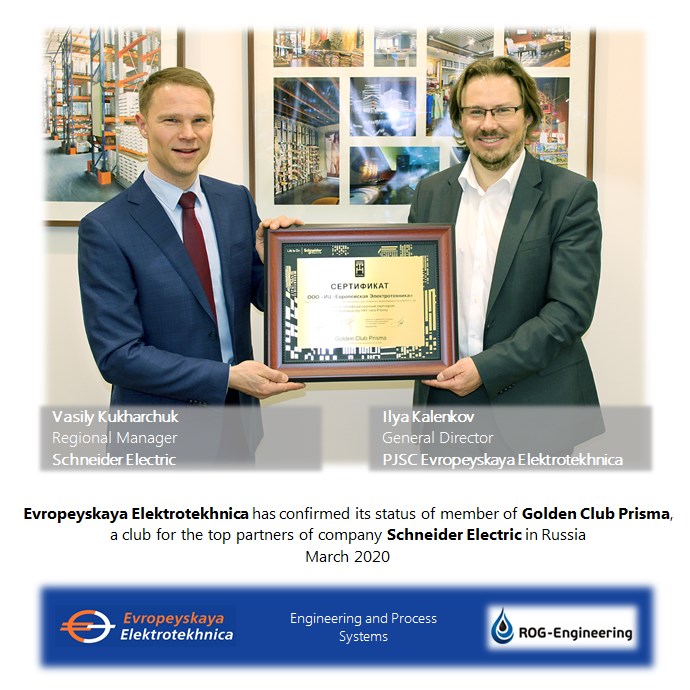 Handing over of the Golden Club Prisma membership certificate:
Vasily Kukharchuk, Regional Manager of Schneider Electric (on the left) hands over the certificate
Ilya Kalenkov, General Director of PJSC Evropeyskaya Elektrotekhnica (on the right) receives the certificate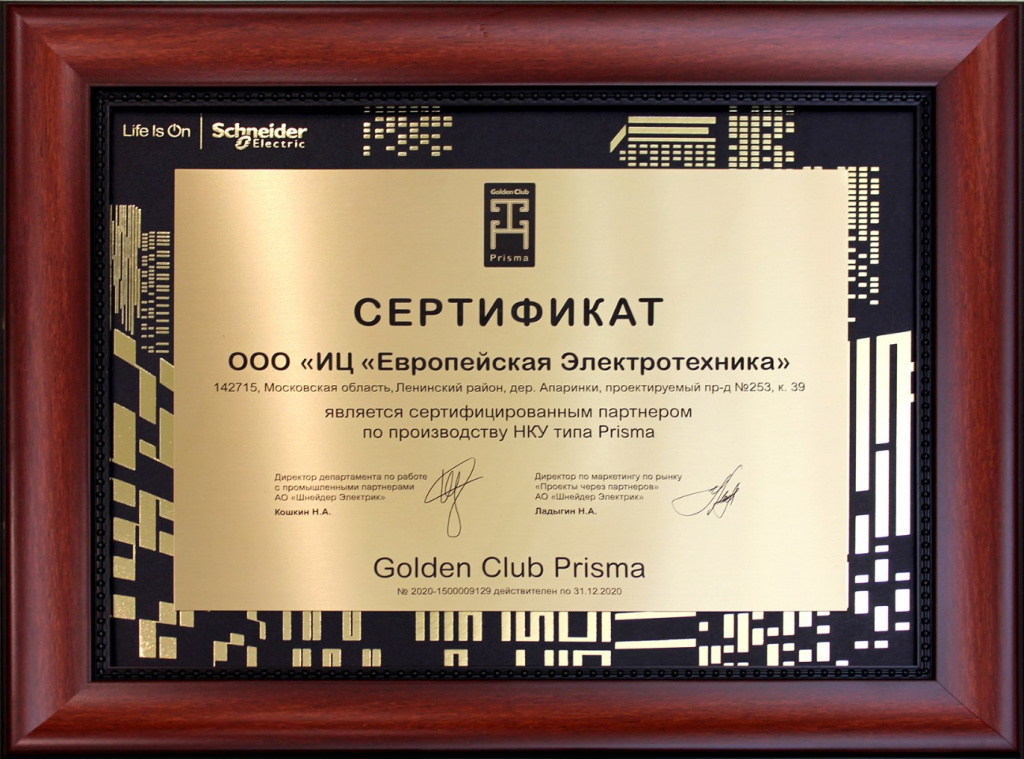 Golden Club Prisma Membership certificate
Since 2002, Golden Club Prisma has selected manufacturers of switchboard equipment that meet strict criteria in terms of ensuring a competent and responsible approach across the entire chain through which the electrical equipment passes, from manufacturer to commissioning and after-sales service. As of March 2020, the club brings together 17 advanced switchboard enterprises in Russia, which are focused on the production of low-voltage complex devices, and 11 of which are based in Moscow. It is important to note that, according to a number of estimates, there are more than 5,000 organizations engaged in the production and assembly of low-voltage complex devices in Russia.
For customers, Evropeyskaya Elektrotekhnica's membership in Golden Club Prisma is a distinctive sign of the quality of the Company's engineering and assembly production of the Prisma type low-voltage complex device, and also confirms the full compliance of the Company's products with European and Russian technologies, requirements and standards.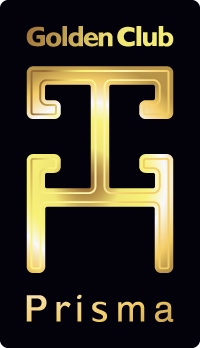 Since 2006, Schneider Electric has confirmed the assembly quality of the Prisma low-voltage complex device with a special sign — the Golden Club Prisma symbol.
Manufacturers place this sign on the boards next to the nameplate.
The assembly production at Evropeyskaya Elektrotekhnica in Vidnoye (Moscow Region) is equipped taking into account the requirements of the Company's French partner. Multilevel training on the specifics of the Prisma assembly technology was carried out for Company engineers, technologists and assemblers, and the production site and technological processes are audited annually by Schneider Electric.
Kirill Kokoulin, Director of Strategy and Marketing in the "Projects through Partners" Market in Russia and the CIS at JSC Schneider Electric, commented on this event: "We are satisfied with the level and scale of our mutually beneficial cooperation with Evropeyskaya Elektrotekhnica, our long-life partner in Russia. The Company's engineering and production expertise is fully consistent with our strict certification criteria. Our companies' experts work side by side to deliver highly-complex projects by taking advantage of Schneider Electric's constructive basis."
Andrey Smirnov, Deputy General Director of Low and Medium Voltage Solutions of Engineering Center Evropeyskaya Elektrotekhnica LLC noted in this regard: "Our Company has been producing electric switchboard equipment for over 11 years. Employees working in assembly production have undergone comprehensive training in the design and assembly technology of low-voltage complex devices based on Schneider Electric solutions. We have gained extensive experience in engineering and manufacturing complex electrical systems for customers in the civil engineering and manufacturing industries. At present, we can responsibly say that the level of manufactured equipment corresponds to or exceeds European counterparts in terms of design, functionality, appearance and ease of operation. We currently have all the necessary competencies, technological and operational capabilities for the production of Prisma PR low-voltage complex devices for currents up to 6,300A. We know how to solve complex tasks for our clients in a short space of time, within the set budget limits and with minimal probability of errors.
The strength of the Company lies in the fact that, in addition to Schneider Electric technology, we know the specific requirements of our Russian clients in a wide range of applications and industries. In 2019, our Company carried out more than 50 major projects related to low-voltage complex devices based on Schneider Electric components, including:
115 Prisma columns (Schneider Electric) carrying up to 2500A for the Data Centers of the Bank of Russia;

delivery of parts for assembling switchboard equipment (based on Schneider Electric components) for several facilities, including for Belorussian NPP;

delivery of Schneider Electric parts for assembling switchboard equipment to facility "New airport terminal for domestic/international airlines at Chelyabinsk International Airport (Balandino). First stage, terminal for domestic airlines";

four FGU and IDGK sub-stations.
The status of Golden Club Prisma member is extremely important for further promotion of complex engineering solutions together with our French partner. We consider belonging to this club to be a sign of professional trust and treat it with great responsibility."
FOR REFERENCE:
Schneider Electric is a global expert in the field of power management and industrial automation. Schneider Electric offers integrated energy-efficient solutions for electric power and infrastructure, industrial enterprises, civil and residential construction, and data centers. The company's entities operate successfully in more than 100 countries.
JSC Schneider Electric has offices in 35 cities around Russia and its head office in Moscow. Schneider Electric's production base in Russia consists of five operating plants and two logistics centers. The company also has scientific, technical and engineering centers in Russia. It has about 8,000 employees across Russia.
Source: https://www.se.com/ru/ru/about-us/press/Contact/
About Evropeyskaya Elektrotekhnica Group of Companies
• Evropeyskaya Elektrotekhnica Group of Companies (MOEX: EELT) offers comprehensive solutions in the field of engineering and technological systems for industrial, construction and infrastructural purposes: low and medium voltage distribution equipment, low current systems, lighting systems, industrial electric heating systems and equipment for the Oil&Gas and petrochemical industries.
• As a Russian joint-stock company with high corporate governance standards and financial sustainability, the Company's Mission is to improve people's quality of life with its entrepreneurial vigour and engineering competencies.
• The Company was founded in 2004 and unites a distribution center, engineering departments, an electrical laboratory and specialized production facilities. The company is one of the largest electrical equipment distributors in the Russian Federation and an industrial partner of leading companies on the international engineering market.
• The Company's logistics capabilities include delivery (including non-standard and oversize load) to customers throughout Russia, including hard-to-reach Northern areas, as well as to Central Asia, North Africa and the Middle East.
• The Company has its own production of the following equipment:
Complete transformer substations;

Medium voltage units;

Low voltage panels of up to 6,300A (including metro solutions);

Electric lighting systems;

Industrial electric heating systems;

Cabling and wiring products.
• Areas of application of the Company's competences:
Oil&Gas industry;

Electric power sector;

Peaceful atom,

Steel and mining industry;

Engineering;

Transport infrastructure, water supply and sanitation.
• Evropeyskaya Elektrotekhnica's customers include major Russian companies: Rosneft, Gazprom, NOVATEK, LUKOIL, Sibur and Nizhnekamskneftekhim. Supplies were successfully implemented for the following projects: Power of Siberia, Yamal LNG, Smolensk NPP, Data Center of Sberbank of Russia, the Domodedovo, Sheremetyevo, and Pulkovo Airports, etc.
• New areas of Company activity starting from 2018 include development and production of the following:
Modular equipment for the Oil&Gas and petrochemical industries (Company subsidiary ROG-Engineering, Ufa, Republic of Bashkortostan, Russian Federation);

Industrial specialized solutions for metro substations (currently being consolidated into the Group's structure: Metrotonnel, Moscow, Russian Federation);

Industrial electric heating systems.
• Key financial indicators of PJSC Evropeyskaya Elektrotekhnica (IFRS):
Revenue

(RUB billion)

Profit for the period

(RUB million)

Assets

(RUB billion)

9 months of 2019

2.60

239.2

1.72

2018

3.29

293.1

1.29

2017

2.60

134.7

1.15
350 people – the personnel headcount.
EELT – the trading code for common shares of PJSC Evropeyskaya Elektrotekhnica on the Moscow Exchange, where shares are traded since September 2017.
BBB- (RU), stable outlook – the credit rating of PJSC Evropeyskaya Elektrotekhnica is at the investment level; the rating confirmed by ACRA on January 30, 2020.
Contacts:
PJSC Evropeyskaya Elektrotekhnica
Tel.: +7 (800) 600-71-18
Mailing address: 1 Lyotchika Babushkina Street, Building 3, Moscow, 129344
| | |
| --- | --- |
| Press contacts | Contact for investors and analysts |
For more information, please contact:
Stanislav Martyushev
Director for Corporate Communications and Investor Relations
PJSC Evropeyskaya Elektrotekhnica
Tel. +7 (495) 660-71-18 ext. 164
Find us on social media:
FACEBOOK TWITTER INSTAGRAM VKONTAKTE LINKEDIN YOUTUBE