Evropeyskaya Elektrotekhnica begins to use advantages of PSEDA Belebey in Bashkiria in creating innovative solutions for electric power sector and oil processing
16.01.2020
Evropeyskaya Elektrotekhnica begins to use advantages of PSEDA Belebey in Bashkiria in creating innovative solutions for electric power sector and oil processing
January 16, 2020. Moscow — ROG-Manufacturing LLC[1] (hereinafter — the Company) was incorporated as a PSEDA Belebey resident (Republic of Bashkortostan) on December 25, 2019.
Thus, the Company received a formal notice from the Ministry of Economic Development of the Russian Federation, signed by the Director of Regional Development Igor Egorov.
Following the agreement, the Company launched an investment project in Belebey called Enterprise Establishment for Production of Oil&Gas and Oilfield Equipment. The project provides for capital investment in the amount of RUB 6 million and creation of 39 jobs starting from 2020, i.e. from the first year of the new company's operation.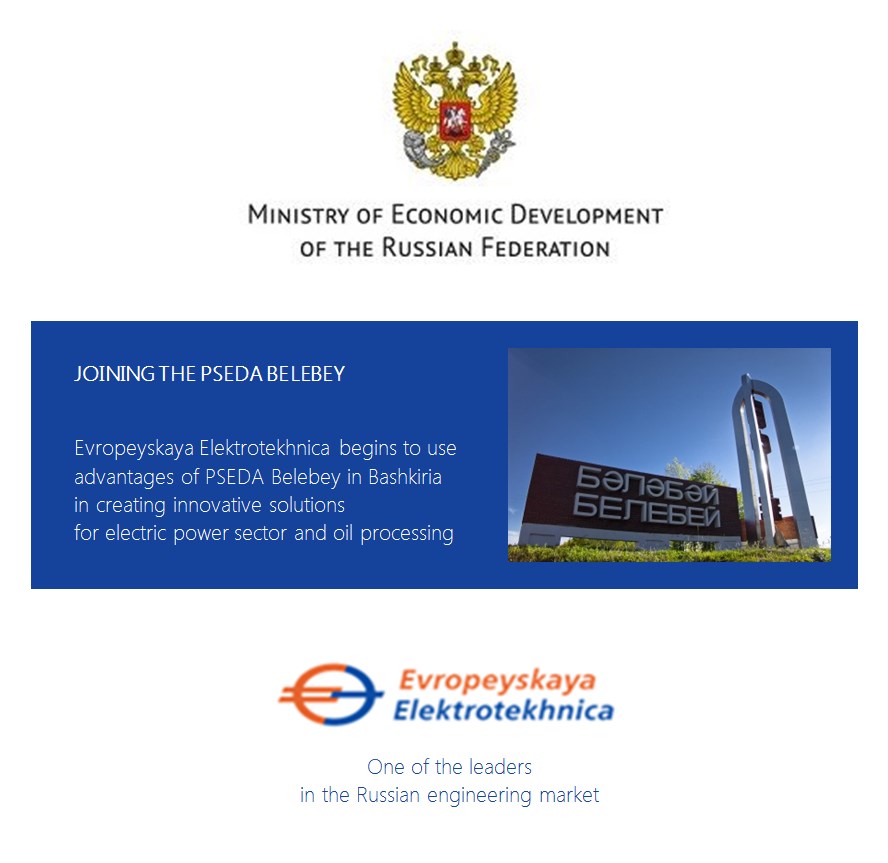 Ilya Kalenkov, General Director of PJSC Evropeyskaya Elektrotekhnica, commented on the event: "We increase the scope of activities for our Process Systems business area. At the same time, we continue to focus on developing our business of leasing innovative units for the electric power sector and oil processing to our partners.
Joining PSEDA Belebey is an important step for us, since we perform very labor-intensive operations at our production sites in Bashkiria that require highly qualified personnel. Tax preferences, especially those related to the payroll size, will be a great help to further develop our innovative business."
REFERENCE:
Priority projects and programs on the Monotown strategic development in the Russian Federation are being carried out in the PSEDA (priority social and economic development area) format in the Republic of Bashkortostan.
PSEDA Belebey was created within the monotown of Belebey in December 2016. The Corporation for Development of the Republic of Bashkortostan accompanies the implementation of this project.
Such status ensures the functioning of a special legal regulation of business activities, which provides for tax relief to PSEDA resident organizations in terms of exemption from property tax and reduction of profit tax rates and insurance payments. The municipalities have also set zero interest rates on land tax.
According to the Ministry of Economic Development of Russia, Bashkiria is now one of the three leaders by the total number of jobs created in PSEDA.
To date, the register of residents of five PSEDAs (Belebey, Beloretsk, Blagoveshchensk, Kumertau, and Neftekamsk) includes 35 investors from the republic with projects worth over RUB 32 billion and more than 5 thousand jobs created.
Sources: https://economy.bashkortostan.ru/dejatelnost/territorialnoe-razvitie/monogoroda/territorii-operezhay...
---
[1]
ROG-Manufacturing LLC is a subsidiary of PJSC Evropeyskaya Elektrotekhnica, one of the leaders in the Russian engineering market. In addition to the Engineering Systems area, Evropeyskaya Elektrotekhnica Group of Companies runs the Process Systems business area, as part of which the subsidiary ROG Engineering LLC produces equipment for Oil&Gas and Petrochemical industries.
About Evropeyskaya Elektrotekhnica Group of Companies
• Evropeyskaya Elektrotekhnica Group of Companies (MOEX: EELT) offers comprehensive solutions in the field of engineering and technological systems for industrial, construction and infrastructural purposes: low and medium voltage distribution equipment, low current systems, lighting systems, industrial electric heating systems and equipment for the Oil&Gas and petrochemical industries.
• As a Russian joint-stock company with high corporate governance standards and financial sustainability, the Company's Mission is to improve people's quality of life with its entrepreneurial vigour and engineering competencies.
• The Company was founded in 2004 and unites a distribution center, engineering departments, an electrical laboratory and specialized production facilities. The company is one of the largest electrical equipment distributors in the Russian Federation and an industrial partner of leading companies on the international engineering market.
• The Company's logistics capabilities include delivery (including non-standard and oversize load) to customers throughout Russia, including hard-to-reach Northern areas, as well as to Central Asia, North Africa and the Middle East.
• The Company has its own production of the following equipment:
Complete transformer substations;

Medium voltage units;

Low voltage panels of up to 6,300A (including metro solutions);

Electric lighting systems;

Industrial electric heating systems;

Cabling and wiring products.
• Areas of application of the Company's competences:
Oil&Gas industry;

Electric power sector;

Peaceful atom,

Steel and mining industry;

Engineering;

Transport infrastructure, water supply and sanitation.
• Evropeyskaya Elektrotekhnica's customers include major Russian companies: Rosneft, Gazprom, NOVATEK, LUKOIL, Sibur and Nizhnekamskneftekhim. Supplies were successfully implemented for the following projects: Power of Siberia, Yamal LNG, Smolensk NPP, Data Center of Sberbank of Russia, the Domodedovo, Sheremetyevo, and Pulkovo Airports, etc.
• New areas of Company activity starting from 2018 include development and production of the following:
Modular equipment for the Oil&Gas and petrochemical industries (Company subsidiary ROG-Engineering, Ufa, Republic of Bashkortostan, Russian Federation);

Industrial specialized solutions for metro substations (currently being consolidated into the Group's structure: Metrotonnel, Moscow, Russian Federation);

Industrial electric heating systems.
• Key financial indicators of PJSC Evropeyskaya Elektrotekhnica (IFRS):
Revenue

(RUB billion)

Profit for the period

(RUB million)

Assets

(RUB billion)

9 months of 2019

2.60

239.2

1.72

2018

3.29

293.1

1.29

2017

2.60

134.7

1.15
350 people – the personnel headcount.
EELT – the trading code for common shares of PJSC Evropeyskaya Elektrotekhnica on the Moscow Exchange, where shares are traded since September 2017.
BBB- (RU), stable outlook – the credit rating of PJSC Evropeyskaya Elektrotekhnica is at the investment level; the rating confirmed by ACRA on January 30, 2020.
Contacts:
PJSC Evropeyskaya Elektrotekhnica
Tel.: +7 (800) 600-71-18
Mailing address: 1 Lyotchika Babushkina Street, Building 3, Moscow, 129344
| | |
| --- | --- |
| Press contacts | Contact for investors and analysts |
For more information, please contact:
Stanislav Martyushev
Director for Corporate Communications and Investor Relations
PJSC Evropeyskaya Elektrotekhnica
Tel. +7 (495) 660-71-18 ext. 164
Find us on social media:
FACEBOOK TWITTER INSTAGRAM VKONTAKTE LINKEDIN YOUTUBE