Evropeyskaya Elektrotekhnica presents innovative cable and modular pipe penetration to Avtodor State Company
17.12.2019
Evropeyskaya Elektrotekhnica presents innovative cable and modular pipe penetration to Avtodor State Company
December 17, 2019. Moscow — On December 12, Project Manager Yaroslav Negrobov, representative of the Engineering Center Evropeyskaya Elektrotekhnica (hereinafter — the Company)[1], presented the Company's capabilities in the field of cable gland sealing for electricity transmission and distribution systems to the management of the Russian Highways State Company (hereinafter, the Avtodor Group of Companies or State Company).
Yaroslav Negrobov's speech took place during the meeting dedicated to the application of innovations in highway engineering, construction and operation, held by the Avtodor Group of Companies.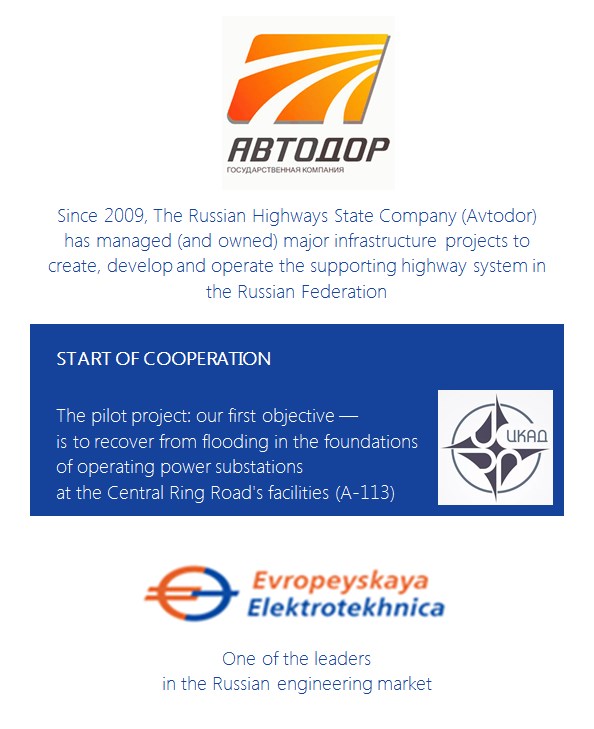 The event was attended by: Igor Astakhov, First Deputy Chairman of the Management Board at the Avtodor Group of Companies, experts of the State Company and the scientific and engineering council, as well as representatives of a number of companies producing innovative products.
Yaroslav Negrobov commented on the event:
"For over two years, we have been offering high-tech products of our partner Roxtec (Russia, Sweden), a leading global supplier of cable and modular pipe seals, on the Russian and other markets.
For almost 30 years of operation, this technology has proven itself in a wide range of manufacturing industries in more than 80 countries, including those with adverse climatic conditions.
It is applied in various areas: walls and slabs, pipes, cellars, cabinets, roof outlets, electromagnetic bearings. This solution is based on the Multidiameter™ technology allowing the sealing module to fit the outer diameter of cables and pipes with the use of removable rubber layers. The equipment was originally designed with consideration to harsh weather conditions in Scandinavia. The operating temperature for Roxtec solutions ranges from -60°C to +80°C.
Over 50% of Roxtec production is located in Russia, which provides for a high level of import substitution. Roxtec products comply with the regulatory and technical rules of the Russian Federation, in particular with the requirements of GOST R 53310-2009 "Through penetration for cables, hermetic inputs and through penetration for electric busbars. Requirements of fire safety. Fire resistance test methods."
Cable and pipe modular penetrations have a number of significant advantages compared with covering of mounting holes with foam:
one penetrant is enough to achieve several goals (sealing, explosion protection, fire resistance, grounding, protection against electromagnetic interference and impulses);

they are aesthetically pleasing;

long service life: 35 years with no maintenance required;

no special skills and tools for installation are required, thus preventing poor performance by contractors;

reduced installation time and convenience, lower risks of personnel injuries.
Our first objective — a point of interest for Avtodor — is to recover from flooding in the foundations of operating power substations at the Central Ring Road's facilities (A-113). During their operation, previous traditional solutions did not provide for complete water sealing of cable glands. We were tasked by the Customer and started to develop a technology that would ensure sealing of cable groups for 35 years."
The presentation shown at the Avtodor Group of Companies' meeting is available at http://euroet.ru/suppliers/rokstek/ (in Russian only).
REFERENCE:
The Russian Highways State Company (Avtodor) has been established on the basis of Federal Law No. 145-FZ.
Since 2009, the State Company has managed (and owned) major infrastructure projects to create, develop and operate the supporting highway system in the Russian Federation:
- construction and operation of federal roads' toll sections;
- M-1 Belarus, M-3 Ukraine, M-4 Don, and M-11 Moscow–St. Petersburg highways;
- construction of Central Ring Road A-113.
The Russian Government has entrusted these roads to Avtodor management.
The State Company participates in the implementation of federal projects:
· Europe — Western China (EWC);
· Communication between Economic Growth Centers (CEGC).
The State Company's 2018 results:
· 3,197.6 km — length of roads owned by the State Company;
· 1,071.0 km — length of toll sections;
· 1,053.3 km — highway construction and renovation (258,6 km in 2018);
· 110.7 million drives — traffic on toll sections (M-3, M-4, M-11);
· RUB 833 billion — investment portfolio, including RUB 210 billion of private investments.
Length of the roads entrusted to Avtodor management will amount to 12,000 kilometers by 2030.
Sources: https://russianhighways.ru, https://rg.ru/articles/avtodor
Central Ring Road A-113 will pass through the Moscow Region and New Moscow at a distance of 50 km from the Moscow Ring Road, parallel to the Little Ring (A-107 Malaya Betonka) or the Greater Ring (A-108 Bolshaya Betonka).
The highway length will amount to 339 km. Central Ring Road construction is one of priority state infrastructure projects. This road will be a key element of the Moscow Region's transport system, and increase the density of paved roads in the region.
It will bypass large residential areas and connect the main outbound roads: Kashirskoe, Simferopolskoe, Kaluzhskoe, Kievskoe, Minskoe, Volokolamskoe, Leningradskoe, Dmitrovskoe, Yaroslavskoe, Gorkovskoe, and Ryazanskoe.
Upon the second construction stage completion, the number of lanes will be 6/8.
Design speed will amount to 120 km/h.
The road construction was started in 2014.
Sources: https://stroi.mos.ru/road/trunk/53, https://russianhighways.ru/for_drivers/CCAD
Roxtec (Sweden) is the world's leading supplier of cable and pipe gland seals in various fields, namely: shipbuilding, manufacturing industry, transport, and infrastructure.
The company was founded in 1990. It has been working on the Russian market for over 18 years.
Roxtec key business indicators:
· EUR 170 million — sales in the 2017/2018 fiscal year
· Customers in more than 80 countries, 28 branches
· Headcount (2017/2018): 760 people
The company has been manufacturing its own products in Russia since 2014. In early 2018, it commissioned a plant in Stupino.
The company offers certified products made in Russia.
Source: https://www.roxtec.com
---
[1]
Engineering Center Evropeyskaya Elektrotekhnica LLC is a key operating company in the structure of PJSC Evropeyskaya Elektrotekhnica (MOEX: EELT), one of the leaders in the Russian engineering market.
About Evropeyskaya Elektrotekhnica Group of Companies
• Evropeyskaya Elektrotekhnica Group of Companies (MOEX: EELT) offers comprehensive solutions in the field of engineering and technological systems for industrial, construction and infrastructural purposes: low and medium voltage distribution equipment, low current systems, lighting systems, industrial electric heating systems and equipment for the Oil&Gas and petrochemical industries.
• As a Russian joint-stock company with high corporate governance standards and financial sustainability, the Company's Mission is to improve people's quality of life with its entrepreneurial vigour and engineering competencies.
• The Company was founded in 2004 and unites a distribution center, engineering departments, an electrical laboratory and specialized production facilities. The company is one of the largest electrical equipment distributors in the Russian Federation and an industrial partner of leading companies on the international engineering market.
• The Company's logistics capabilities include delivery (including non-standard and oversize load) to customers throughout Russia, including hard-to-reach Northern areas, as well as to Central Asia, North Africa and the Middle East.
• The Company has its own production of the following equipment:
Complete transformer substations;

Medium voltage units;

Low voltage panels of up to 6,300A (including metro solutions);

Electric lighting systems;

Industrial electric heating systems;

Cabling and wiring products.
• Areas of application of the Company's competences:
Oil&Gas industry;

Electric power sector;

Peaceful atom,

Steel and mining industry;

Engineering;

Transport infrastructure, water supply and sanitation.
• Evropeyskaya Elektrotekhnica's customers include major Russian companies: Rosneft, Gazprom, NOVATEK, LUKOIL, Sibur and Nizhnekamskneftekhim. Supplies were successfully implemented for the following projects: Power of Siberia, Yamal LNG, Smolensk NPP, Data Center of Sberbank of Russia, the Domodedovo, Sheremetyevo, and Pulkovo Airports, etc.
• New areas of Company activity starting from 2018 include development and production of the following:
Modular equipment for the Oil&Gas and petrochemical industries (Company subsidiary ROG-Engineering, Ufa, Republic of Bashkortostan, Russian Federation);

Industrial specialized solutions for metro substations (currently being consolidated into the Group's structure: Metrotonnel, Moscow, Russian Federation);

Industrial electric heating systems.
• Key financial indicators of PJSC Evropeyskaya Elektrotekhnica (IFRS):
Revenue

(RUB billion)

Profit for the period

(RUB million)

Assets

(RUB billion)

9 months of 2019

2.60

239.2

1.72

2018

3.29

293.1

1.29

2017

2.60

134.7

1.15
350 people – the personnel headcount.
EELT – the trading code for common shares of PJSC Evropeyskaya Elektrotekhnica on the Moscow Exchange, where shares are traded since September 2017.
BBB- (RU), stable outlook – the credit rating of PJSC Evropeyskaya Elektrotekhnica is at the investment level; the rating confirmed by ACRA on January 30, 2020.
Contacts:
PJSC Evropeyskaya Elektrotekhnica
Tel.: +7 (800) 600-71-18
Mailing address: 1 Lyotchika Babushkina Street, Building 3, Moscow, 129344
| | |
| --- | --- |
| Press contacts | Contact for investors and analysts |
For more information, please contact:
Stanislav Martyushev
Director for Corporate Communications and Investor Relations
PJSC Evropeyskaya Elektrotekhnica
Tel. +7 (495) 660-71-18 ext. 164
Find us on social media:
FACEBOOK TWITTER INSTAGRAM VKONTAKTE LINKEDIN YOUTUBE