Evropeyskaya Elektrotekhnica is recognized as the best ESYLUX (Germany) distributor on the Russian market
28.12.2018
Evropeyskaya Elektrotekhnica is recognized as the best ESYLUX (Germany) distributor on the Russian market
January 28, 2019. Moscow – PJSC Evropeyskaya Elektrotekhnica (hereinafter, the "Company" or "Group"), a leading company on the Russian engineering market, has been recognized by ESYLUX (Germany), represented by its Russian branch ESYLUX RU LLC, as the most effective partner and distributor on the Russian market.
At the end of 2018, Evropeyskaya Elektrotekhnica provided the largest amount of ESYLUX's equipment sales in Russia, namely lighting control sensors (motion and level sensors).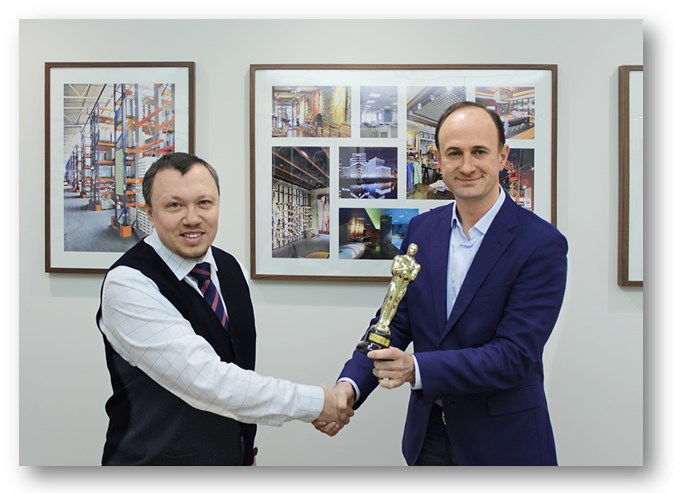 Presentation of the Ludwig commemorative statuette
Andrey Golovin, General Director of ESYLUX RU LLC, presented the award
The award was given to: Sergey Dubenok, Director for Development, Head of the Board of Directors of PJSC Evropeyskaya Elektrotekhnica
Sergey Dubenok, Head of the Board of Directors of PJSC Evropeyskaya Elektrotekhnica, commented on the event: "For more than 10 years, we have been successfully cooperating with ESYLUX in the domestic market. The sensors produced by ESYLUX have unique characteristics. For example, they can be mounted up high (at a height of 12 meters). Our customers look for this kind of feature for their development projects as well as for many other projects. They include logistics operators, precise engineering companies, and industrial companies. In 2019, we are planning to actively increase the volumes of joint business with ESYLUX, which will be facilitated by further training of sales staff."
Andrey Golovin, General Director of ESYLUX RU LLC, said in this regard: "We highly commend the results achieved in cooperation with Evropeyskaya Elektrotekhnica. The use of ESYLUX's modern high-tech equipment in construction or other projects allows owners and operators of real estate not only to save on electricity, but to achieve a number of different business objectives, incluging improvement of working conditions for office employees. It is also important to note that ESYLUX sensors are an integral part of complex engineering solutions that facilitate the process of certifying real estate in accordance with international standards of green construction – LEED (USA) and BREEAM (Great Britain). This increases both the market price of the real estate and its attractiveness for tenants. We entered 2019 with positive expectations and a strong Russian partner in Evropeyskaya Elektrotekhnica."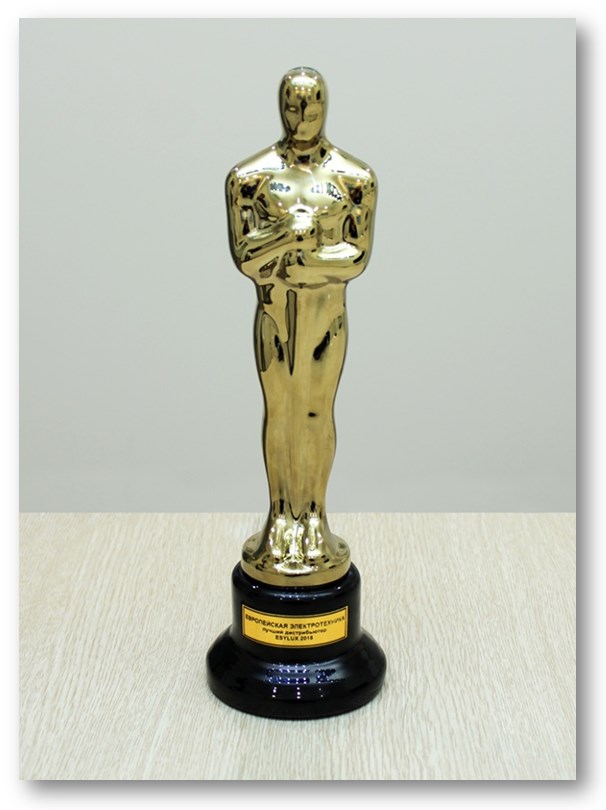 Ludwig commemorative statuette
REFERENCE:
ESYLUX develops, manufactures and sells intelligent automation and lighting systems that help improve quality of life and reduce electric power consumption in office buildings, educational institutions, and health facilities. The focus is always on the needs and requirements of each individual. To meet these high demands, ESYLUX applies its vast experience in the field of electronics and automation, particularly for the development of LED systems used in energy-efficient biologically active lighting. The scope of application of these systems is extremely broad: from complex automation and lighting of a single room to networking and integration in building control systems.
About the Group of Companies PJSC Evropeyskaya Elektrotekhnica
PJSC Evropeyskaya Elektrotekhnica (MOEX: EELT) provides comprehensive services in the sphere of creating energy and electric power supply systems, electric lighting systems, and low current systems at all types of facilities, as well as industrial electric heating systems.
The Company has been working in the electrical engineering market since 2004, and at present has its own engineering and production facilities. The Company is one of the leading distributors of electrical equipment in Russia, offering customers a wide range of products made both in Russia and abroad. Thanks to a well-organized and efficient logistics system, the Company is able to supply products (including oversize loads) all over Russia, including to hard-to-reach areas of the North, as well as Belarus, Kazakhstan, Turkmenistan, Kyrgyzstan and Uzbekistan. The Company established its own production of transformer substations, electric switchboard equipment of any complexity (up to 6300A), electric lighting systems and electric heating systems.
The Company implements projects in the Oil&Gas sector, electric power sector, nuclear industry, metal industry, mining industry, and manufacturing industry and at transport infrastructure facilities. Evropeyskaya Elektrotekhnica's customers include companies such as Rosneft, Gazprom, NOVATEK, LUKOIL, and Nizhnekamskneftekhim. The Company's projects include Power of Siberia, Yamal LNG, Smolensk NPP, Data Center of Sberbank of Russia, and the Domodedovo, Sheremetyevo, and Pulkovo airports, etc.
Since 2018, the Group has been producing highly efficient modular process equipment for clients in Oil&Gas and petrochemical markets at the site of its subsidiary ROG-Engineering, a research and production company in Ufa (Republic of Bashkortostan, Russia).
Key financial indicators of PJSC Evropeyskaya Elektrotekhnica (IFRS):
Revenue

(RUB billion)

Profit for the period

(RUB million)

Total assets

(RUB billion)

9m 2018

2.6


224.3


1.47


2017

2.6

134.7

1.15
The number of employees is about 400 (as of June 30, 2018). Since September 2017, common shares of PJSC Evropeyskaya Elektrotekhnica are traded on the Moscow Exchange with trading code EELT.
In June 2018, the Company was named "Leader of Import Substitution" at the "Leader of Competitive Sales" annual national awards, in which 450 domestic suppliers from various industries took part.
Contacts:
PJSC Evropeyskaya Elektrotekhnica
Tel .: +7 (495) 640-93-48
Mailing address: Building 3, 1 Lyotchika Babushkina St., Moscow, 129344
| | |
| --- | --- |
| Press contact | Contact for investors and analysts |
For more information, please contact:
Stanislav Martyushev
Director for Corporate Communications and Investor Relations
PJSC Evropeyskaya Elektrotekhnica
Tel. +7 (495) 640-93-48, ext. 164
Join us in social networks:
FACEBOOK TWITTER INSTAGRAM VKONTAKTE LINKEDIN YOUTUBE Yandex.Zen