Industrial electric heating: Evropeyskaya Elektrotekhnica expands cooperation with Interfill (FAREVA Holding, France)
02.12.2019
Industrial electric heating: Evropeyskaya Elektrotekhnica expands cooperation with Interfill (FAREVA Holding, France)
December 2, 2019. Moscow – PJSC Evropeyskaya Elektrotekhnica (hereinafter, the Company or Group), a leading company in the Russian engineering market, has successfully implemented a new full-cycle project of launching an electric heating system for the industrial facilities of Interfill LLC (the town of Tosno; the plant is owned by FAREVA Holding, France).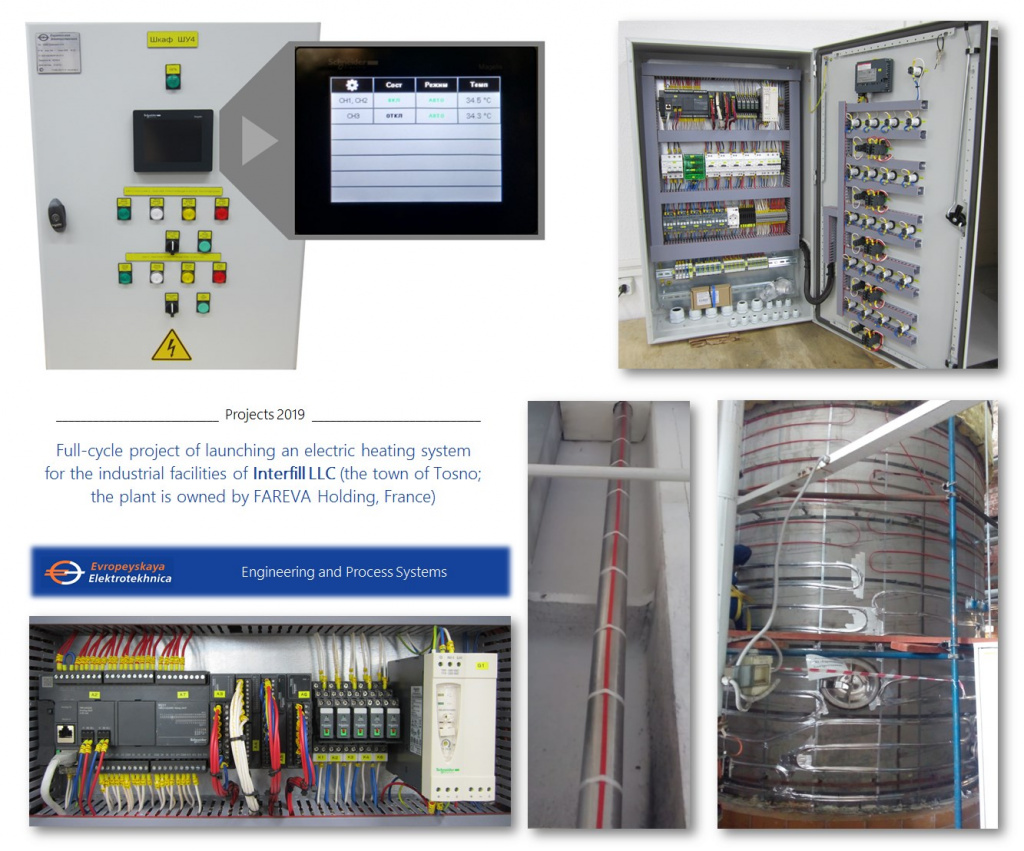 Ilya Kalenkov, General Director of PJSC Evropeyskaya Elektrotekhnica, made the following comment: "The success of the previous stage allowed us to expand the scope of our cooperation with Interfill. The second project has also been implemented within the agreed budget and schedule. The industrial electric heating system EE-HITFLEX, which we designed for the customer, is a result of our R&D program 2018."
During implementation of the project under an EPC contract, we provided Interfill with our full range of services:
Pre-project on-site examination carried out by our technicians;

Development of project documentation;

Manufacturing of parts and components along with control system cabinets, organizing procurement of a number of components from partner companies;

Installation and start-up of the electric heating system for processing Interfill facilities — tank and pipelines;

Consideration of all the customer's needs regarding the control system design and the exterior of its components.
A distinctive feature of the project was the use of a touch display on the front panel of the control cabinet. This solution uses the design of our long-standing partner, Schneider Electric, and will allow the customer's employees to:
Receive information about the current system status;

Keep records of all events related to changes in parameters of the electric heating system, caused both by own functioning of the system and any external influences;

Quickly adjust the system without the use of additional devices.
REFERENCE:
Interfill LLC is a modern contract producer of cosmetics, household chemicals and professional detergents. The company is part of French pharmaceutical company FAREVA Holding, one of the world's leaders in contract production (41 plants in 12 countries around the globe, 7 R&D and development centers). It manufactures products for the most famous international brands for the Russian market. Interfill complies with regulations and GMP standards, as well as the requirements of ISO 22716, operates a wide range of equipment, has a warehouse of 13,500 m2, packs products in containers ranging from 30 ml to 1,000 liters, runs its own certified laboratories, hires experienced employees, and monitors all production stages. Investments in the company exceeded EUR 28 million. Previously, the plant belonged to Henkel.
About Evropeyskaya Elektrotekhnica Group of Companies
• Evropeyskaya Elektrotekhnica Group of Companies (MOEX: EELT) offers comprehensive solutions in the field of engineering and technological systems for industrial, construction and infrastructural purposes: low and medium voltage distribution equipment, low current systems, lighting systems, industrial electric heating systems and equipment for the Oil&Gas and petrochemical industries.
• As a Russian joint-stock company with high corporate governance standards and financial sustainability, the Company's Mission is to improve people's quality of life with its entrepreneurial vigour and engineering competencies.
• The Company was founded in 2004 and unites a distribution center, engineering departments, an electrical laboratory and specialized production facilities. The company is one of the largest electrical equipment distributors in the Russian Federation and an industrial partner of leading companies on the international engineering market.
• The Company's logistics capabilities include delivery (including non-standard and oversize load) to customers throughout Russia, including hard-to-reach Northern areas, as well as to Central Asia, North Africa and the Middle East.
• The Company has its own production of the following equipment:
Complete transformer substations;

Medium voltage units;

Low voltage panels of up to 6,300A (including metro solutions);

Electric lighting systems;

Industrial electric heating systems;

Cabling and wiring products.
• Areas of application of the Company's competences:
Oil&Gas industry;

Electric power sector;

Peaceful atom,

Steel and mining industry;

Engineering;

Transport infrastructure, water supply and sanitation.
• Evropeyskaya Elektrotekhnica's customers include major Russian companies: Rosneft, Gazprom, NOVATEK, LUKOIL, Sibur and Nizhnekamskneftekhim. Supplies were successfully implemented for the following projects: Power of Siberia, Yamal LNG, Smolensk NPP, Data Center of Sberbank of Russia, the Domodedovo, Sheremetyevo, and Pulkovo Airports, etc.
• New areas of Company activity starting from 2018 include development and production of the following:
Modular equipment for the Oil&Gas and petrochemical industries (Company subsidiary ROG-Engineering, Ufa, Republic of Bashkortostan, Russian Federation);

Industrial specialized solutions for metro substations (currently being consolidated into the Group's structure: Metrotonnel, Moscow, Russian Federation);

Industrial electric heating systems.
• Key financial indicators of PJSC Evropeyskaya Elektrotekhnica (IFRS):
Revenue

(RUB billion)

Profit for the period

(RUB million)

Assets

(RUB billion)

9 months of 2019

2.60

239.2

1.72

2018

3.29

293.1

1.29

2017

2.60

134.7

1.15
The personnel headcount is around 350 people. Since September 2017, common shares of PJSC Evropeyskaya Elektrotekhnica are traded on the Moscow Exchange with trading code EELT.
In June 2018, the company was named Import Substitution Leader at the Leader of Competitive Sales annual national awards, in which 450 domestic suppliers from various industries took part.
Contacts:
PJSC Evropeyskaya Elektrotekhnica
Tel.: +7 (800) 600-71-18
Mailing address: 1 Lyotchika Babushkina Street, Building 3, Moscow, 129344
| | |
| --- | --- |
| Press contacts | Contact for investors and analysts |
For more information, please contact:
Stanislav Martyushev
Director for Corporate Communications and Investor Relations
PJSC Evropeyskaya Elektrotekhnica
Tel. +7 (495) 660-71-18 ext. 164
Find us on social media:
FACEBOOK TWITTER INSTAGRAM VKONTAKTE LINKEDIN YOUTUBE