Energy efficiency technologies: already at the service of your business?
27.11.2019
Energy efficiency technologies: already at the service of your business?
Every year on November 11, about 20 countries celebrate International Energy Saving Day to draw the attention of businesses and citizens to modern solutions for reduction in electricity and heat energy consumption. The end goal is to protect the environment and to be sure that we are doing everything we can to alleviate the burden placed on the Earth's fragile ecosystem by industrial and everyday activities.
The term "energy efficiency" is often used formally and unemotionally. However, the level of development of modern electrical technologies and lighting systems already allows for a two-thirds reduction in the volume of electricity consumption that was typical of the previous technological paradigm.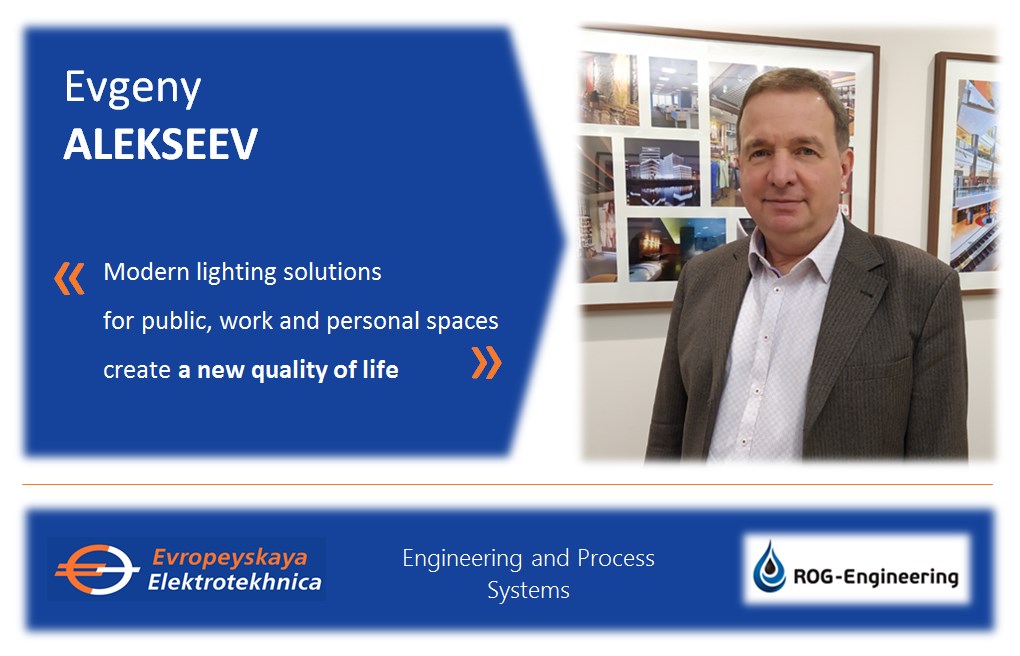 Evgeny Alekseev, Technical Director (lighting field) of Evropeyskaya Elektrotekhnica, shares his well-informed view on the topic:
"Energy efficiency and energy saving are full of ingrained prejudices that prevent the truly widespread application of effective solutions that have already been created.
The energy-effective operating mode of LED illumination is often not achieved, because operating conditions are not fully taken into account when selecting equipment or because the lighting fixtures begin to degrade after 1–2 years of operation.
Operators of modern lighting equipment are often disappointed when estimating actual savings in electric power consumption and the durability of new lighting systems.
In most cases, the reason is that during lighting systems' engineering phase, high temperatures in the area of the lighting fixtures or aggressive environments or high dust levels and other important factors have not been taken into account. Of course, in such cases, the equipment has been chosen wrongly for relevant projects. The result can be not only a rough reduction in the service life of LED illuminations (significantly less than the 50 thousand operation hours guaranteed by manufacturers). More complicated cases also entail degradation (loss) of the luminous power of lighting fixtures. I mean performance standards for the level of illumination and its unevenness, which negatively affects work efficiency and labor productivity.
The lighting fixtures are great. Then why is the lighting at our facility is so bad?!
In addition to their light flux, capacity and light temperature, modern lighting fixtures have many other equally important parameters. One of them is light distribution in different directions throughout a space. This parameter should be taken into account during the engineering phase when selecting lighting fixtures for the facility. Otherwise, there is a high chance that lighting will not work as planned, and the expected energy efficiency for the invested funds will not be achieved. A vivid example of such a facility (where the role of this parameter in achieving energy efficiency is very high) from our practice is that of logistics parks with storage shelves. There are other important parameters, which are especially critical in visual work. And if work efficiency and, as a result, production performance are falling, it is obvious that such savings and such energy efficiency are useless for business.
Does the lighting system not pay off? How well is its control system thought out?
Today, the format for production and office facilities is significantly altered. New trends and new approaches have changed the lighting standards for workplaces and public areas. A new logic dictates the placement of regular and stained glass windows as well as lobby areas and other lounge zones, which are responsible for both increasing the share of natural light and creating emotionally expressive and comfortable spaces.
Competent use of modern LED illumination systems, automatic light control that takes into account natural light (light sensors), lighting needs (presence detectors for personnel or technological facilities), energy consumption "before and afters", with due regard for the specific features of specific facilities truly allow one, already today, to achieve savings of up to 50–60% of previous electric power consumption for lighting.
It is important that operators can implement such projects step by step. The confirmation of design parameters at test sites will allow us to turn more confidently to equipping larger facilities with modern lighting systems.
Alternative (solar) energy – in particular, solar panels – has reached technological maturity, and the use of solar-powered street lighting fixtures is profitable and cost-efficient for many facilities.
In many cases, the solution to the problem of facility lighting can be provided by a very promising (and, sometimes, the only appropriate) bundle: LED illuminations + solar panels + control system.
I mean the lighting of public spaces: roads, public transport stops, pedestrian crossings, park and landscape areas, shopping mall parking lots. In most cases, it is extremely expensive and not efficient to provide lighting for such facilities in traditional ways (to string power lines).
Modern lighting systems have a modern design and are highly efficient: solar panels are integrated into lighting fixture cases; these batteries are quite efficient, and street lighting fixtures allow the use of foundations of 4–12 meters in height.
These lighting technologies are already sufficiently developed. In our opinion, their wider implementation is hindered only by a lack of awareness of state-of-the-art lighting equipment and the real benefits of its use.
Modern lighting solutions for public, work and personal spaces create, without exaggeration, a new quality of life. It is possible to provide high-quality conditions for life, work, and creativity in certain places in our country where it would have been previously impossible due to extremely high cost of previous approaches.
Energy efficiency is always a complex exercise. And, comparing traditional approaches with innovative breakthrough technologies, we can conclude once again that only a serious project approach combined with advanced technologies provides a worthy result.
About Evropeyskaya Elektrotekhnica Group of Companies
• Evropeyskaya Elektrotekhnica Group of Companies (MOEX: EELT) offers comprehensive solutions in the field of engineering and technological systems for industrial, construction and infrastructural purposes: low and medium voltage distribution equipment, low current systems, lighting systems, industrial electric heating systems and equipment for the Oil&Gas and petrochemical industries.
• As a Russian joint-stock company with high corporate governance standards and financial sustainability, the Company's Mission is to improve people's quality of life with its entrepreneurial vigour and engineering competencies.
• The Company was founded in 2004 and unites a distribution center, engineering departments, an electrical laboratory and specialized production facilities. The company is one of the largest electrical equipment distributors in the Russian Federation and an industrial partner of leading companies on the international engineering market.
• The Company's logistics capabilities include delivery (including non-standard and oversize load) to customers throughout Russia, including hard-to-reach Northern areas, as well as to Central Asia, North Africa and the Middle East.
• The Company has its own production of the following equipment:
Complete transformer substations;

Medium voltage units;

Low voltage panels of up to 6,300A (including metro solutions);

Electric lighting systems;

Industrial electric heating systems;

Cabling and wiring products.
• Areas of application of the Company's competences:
Oil&Gas industry;

Electric power sector;

Peaceful atom,

Steel and mining industry;

Engineering;

Transport infrastructure, water supply and sanitation.
• Evropeyskaya Elektrotekhnica's customers include major Russian companies: Rosneft, Gazprom, NOVATEK, LUKOIL, Sibur and Nizhnekamskneftekhim. Supplies were successfully implemented for the following projects: Power of Siberia, Yamal LNG, Smolensk NPP, Data Center of Sberbank of Russia, the Domodedovo, Sheremetyevo, and Pulkovo Airports, etc.
• New areas of Company activity starting from 2018 include development and production of the following:
Modular equipment for the Oil&Gas and petrochemical industries (Company subsidiary ROG-Engineering, Ufa, Republic of Bashkortostan, Russian Federation);

Industrial specialized solutions for metro substations (currently being consolidated into the Group's structure: Metrotonnel, Moscow, Russian Federation);

Industrial electric heating systems.
• Key financial indicators of PJSC Evropeyskaya Elektrotekhnica (IFRS):
Revenue

(RUB billion)

Profit for the period

(RUB million)

Assets

(RUB billion)

Н1 2019

1.60

163.3

1.71

2018

3.29

293.1

1.29

2017

2.60

134.7

1.15
The personnel headcount is around 350 people. Since September 2017, common shares of PJSC Evropeyskaya Elektrotekhnica are traded on the Moscow Exchange with trading code EELT.
In June 2018, the company was named Import Substitution Leader at the Leader of Competitive Sales annual national awards, in which 450 domestic suppliers from various industries took part.
Contacts:
PJSC Evropeyskaya Elektrotekhnica
Tel.: +7 (800) 600-71-18
Mailing address: 1 Lyotchika Babushkina Street, Building 3, Moscow, 129344
| | |
| --- | --- |
| Press contacts | Contact for investors and analysts |
For more information, please contact:
Stanislav Martyushev
Director for Corporate Communications and Investor Relations
PJSC Evropeyskaya Elektrotekhnica
Tel. +7 (495) 660-71-18 ext. 164
Find us on social media:
FACEBOOK TWITTER INSTAGRAM VKONTAKTE LINKEDIN YOUTUBE