Oil&Gas engineering experts: persons with ROG-Engineering
20.05.2020
Oil&Gas engineering experts: persons with ROG-Engineering
The most sophisticated and cutting-edge equipment is created by highly-skilled professionals in their field. Let us introduce them to you.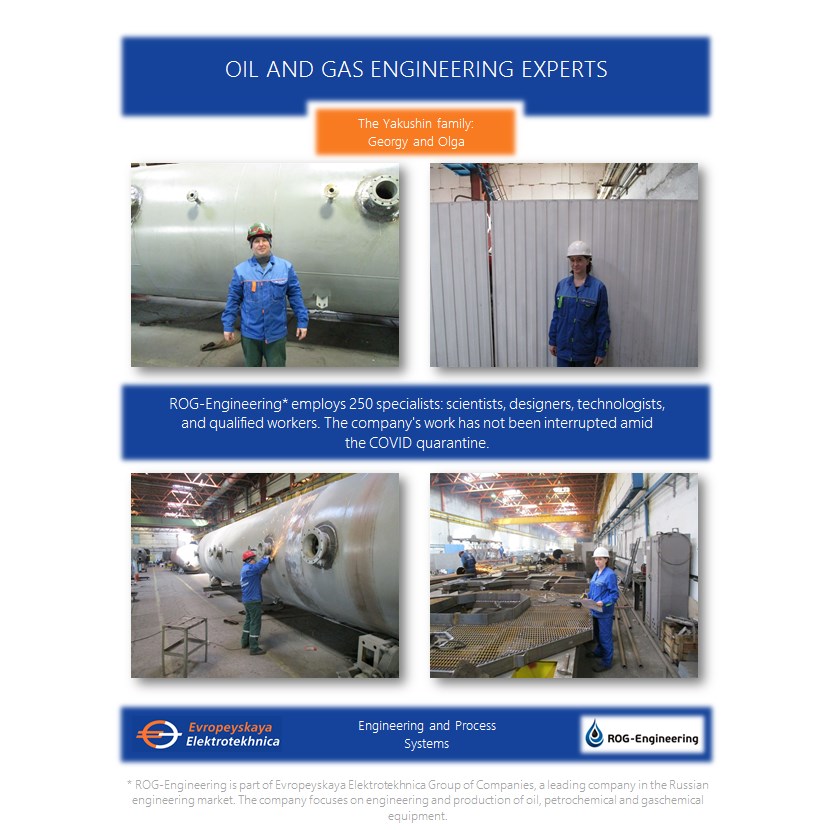 Georgy Yakushin is a fitter of steel structures at ROG-Engineering LLC.
His wife, Olga Yakushina, once told him to go and try to work at our company's plant, and this is how we had him. The young employee does not regret that he has committed himself to the assembly of complex units of steel structures for welding. Georgy believes his work requires versatility and, to some extent, it is considered as creative and intellectual work.
He is extremely fond of vehicle repair and restoring; at his previous job he was a vehicle painter, that is why he dreams of restoring retro cars.
After a while, Olga also joined our company as an inspector of the quality department. Now she oversees the manufacturing of equipment by eight main production crews. Monitoring of product quality is a huge responsibility. The young specialist says: "It is important to be acquainted with GOST requirements and internal standards of quality, otherwise you may leave."
Olga is determined to move forward with what she does and teach new employees the finest points of this profession.
About ROG-Engineering
ROG-Engineering LLC (www.rogeng.ru) performs the full range of services for development, production and delivery of certified Oil&Gas equipment. The company is guided by the principle of use of advanced reliable technologies and products that meet the criteria of our times, safety, quality, energy saving and ecological compatibility.
ROG-Engineering LLC has been part of PJSC Evropeyskaya Elektrotekhnica Group of Companies since June 2018. PJSC Evropeyskaya Elektrotekhnica has a 95% stake in the Company's authorized capital.
ROG-Engineering LLC develops, designs and manufactures a wide range of modern highly efficient equipment for customers in the Oil&Gas and petrochemical markets, including:
Traditional equipment and services segment:
- booster pumping stations,
- Oil&Gas treatment units in modular and container design,
- mobile complexes for well exploration and development,
- flares,
- separation plants, as well as separate apparatus and units.
Innovative facilities for oil refining and electric power sector segment:
- oil treatment unit at a refinery,
- residue desulfurization unit,
- unit for increasing the octane number,
- mobile unit of oil and oil products processing,
- mobile oil dehydration unit,
- unit for reduction of fuel oil (as fuel) consumption.
The company's products have certificates and declarations of conformity with the requirements of the Eurasian Customs Union for Oil&Gas industry equipment.
The main customers of ROG-Engineering are leading Oil&Gas complex companies in Russia and foreign countries, including Rosneft, Lukoil, Bashneft, Irkutsk Oil Company, RussNeft, and companies from Kazakhstan and Uzbekistan.
One third of the company's staff is comprised of research and engineering personnel. The company's own engineering research center ensures its leadership position in developing innovative equipment that is in demand among Oil&Gas companies.
The company performs the full range of activities, including:
- surveying facilities and issuing technical and process solutions;
- engineering, designing and construction of newly built facilities;
- manufacturing and supply of complete process line equipment, modular equipment, different types of pump stations, mobile well-test and development units, different types of mobile units (treatment of commercial grade oil, water disposal, separation of associated petroleum gas), flares, gas separators, gas treatment units and other types of Oil&Gas process equipment;
- reconstruction and upgrading existing equipment and plants;
- development and implementation of hardware and software for Automated Process Control Systems;
- installation supervision;
- pre-commissioning work and designer supervision.
About Evropeyskaya Elektrotekhnica Group of Companies
• Evropeyskaya Elektrotekhnica Group of Companies (MOEX: EELT) offers comprehensive solutions in the field of engineering and technological systems for industrial, construction and infrastructural purposes: low and medium voltage distribution equipment, low current systems, lighting systems, industrial electric heating systems and equipment for the Oil&Gas and petrochemical industries.
• As a Russian joint-stock company with high corporate governance standards and financial sustainability, the Company's Mission is to improve people's quality of life with its entrepreneurial vigour and engineering competencies.
• The Company was founded in 2004 and unites a distribution center, engineering departments, an electrical laboratory and specialized production facilities. The company is one of the largest electrical equipment distributors in the Russian Federation and an industrial partner of leading companies on the international engineering market.
• The Company's logistics capabilities include delivery (including non-standard and oversize load) to customers throughout Russia, including hard-to-reach Northern areas, as well as to Central Asia, North Africa and the Middle East.
• The Company has its own production of the following equipment:
Complete transformer substations;

Medium voltage units;

Low voltage panels of up to 6,300A (including metro solutions);

Electric lighting systems;

Industrial electric heating systems;

Cabling and wiring products.
• Areas of application of the Company's competences:
Oil&Gas industry;

Electric power sector;

Peaceful atom,

Steel and mining industry;

Engineering;

Transport infrastructure, water supply and sanitation.
• Evropeyskaya Elektrotekhnica's customers include major Russian companies: Rosneft, Gazprom, NOVATEK, LUKOIL, Sibur and Nizhnekamskneftekhim. Supplies were successfully implemented for the following projects: Power of Siberia, Yamal LNG, Smolensk NPP, Data Center of Sberbank of Russia, the Domodedovo, Sheremetyevo, and Pulkovo Airports, etc.
• New areas of Company activity starting from 2018 include development and production of the following:
Modular equipment for the Oil&Gas and petrochemical industries (Company subsidiary ROG-Engineering, Ufa, Republic of Bashkortostan, Russian Federation);

Industrial specialized solutions for metro substations (currently being consolidated into the Group's structure: Metrotonnel, Moscow, Russian Federation);

Industrial electric heating systems.
• Key financial indicators of PJSC Evropeyskaya Elektrotekhnica (IFRS):
Revenue

(RUB billion)

Profit for the period

(RUB million)

Assets

(RUB billion)

2019

3.27

298.9

1.83

2018

3.29

293.1

1.29

2017

2.60

134.7

1.15
The personnel headcount is around 350 people. Since September 2017, common shares of PJSC Evropeyskaya Elektrotekhnica are traded on the Moscow Exchange with trading code EELT.
In June 2018, the company was named Import Substitution Leader at the Leader of Competitive Sales annual national awards, in which 450 domestic suppliers from various industries took part.
Contacts:
PJSC Evropeyskaya Elektrotekhnica
Tel.: +7 (800) 600-71-18
Mailing address: 1 Lyotchika Babushkina Street, Building 3, Moscow, 129344
| | |
| --- | --- |
| Press contacts | Contact for investors and analysts |
For more information, please contact:
Stanislav Martyushev
Director for Corporate Communications and Investor Relations
PJSC Evropeyskaya Elektrotekhnica
Tel. +7 (495) 660-71-18 ext. 164
Find us on social media:
FACEBOOK TWITTER INSTAGRAM VKONTAKTE LINKEDIN YOUTUBE