Evropeyskaya Elektrotekhnica combats the COVID-19 pandemic: super-fast deliveries for a new infectious diseases hospital
18.05.2020
Evropeyskaya Elektrotekhnica combats the COVID-19 pandemic: super-fast deliveries for a new infectious diseases hospital
May 18, 2020. Moscow — PJSC Evropeyskaya Elektrotekhnica (hereinafter, the "Company" or the "Group"), one of the leaders in the Russian engineering market, supplied a range of engineering products for the construction of the Voronovskoye Moscow Infectious Disease Clinical Center in the village of Golokhvastovo (Troitsky Administrative District of New Moscow). The first patients were admitted to the hospital as early as on April 21, 2020.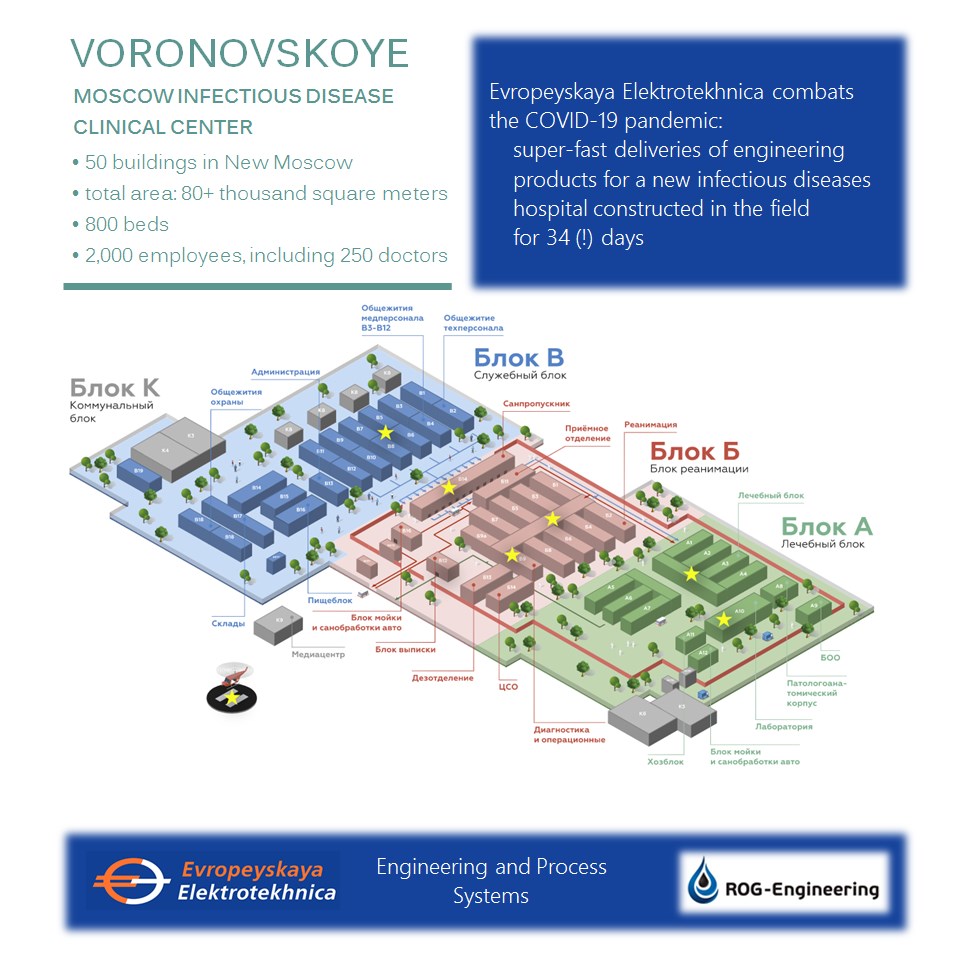 Ilya Kalenkov, General Director of PJSC Evropeyskaya Elektrotekhnica, commented on it: "This is a truly unprecedented project in the Russian construction and engineering practices for peacetime. The scale and promptness of the works carried out can be compared only with overcoming the effects of major earthquakes.
The hospital has been built and commissioned for just over one (!) month. Mosinzhproekt, the largest engineering company of Moscow, was the general contractor. About 11,000 construction workers and more than 1,500 units of equipment operated on the site every day and round the clock. At the same time, the project itself is more than large-scale: the hospital is designed for 800 beds and includes 50 buildings with a total area of about 81 thousand square meters. 2,000 employees will work there, including 250 doctors.
We clearly understood the importance of fast increase in capacity of infectious diseases hospitals in Russia, taking into consideration the global scale and danger of the COVID-19 pandemic. Deliveries for this project were successfully carried out in a very short time: the first shipments started on the day off.
It is extremely pleasant to realize that our Company has made a practical contribution to the effective fight against coronavirus."
FOR REFERENCE:
The Voronovskoye Moscow Infectious Disease Clinical Center is an autonomous infectious diseases hospital near the village of Golokhvastovo, Voronovskoye settlement, Moscow. The hospital is designed for 800 beds (with the possibility to expand the capacity up to 900 beds and transform each bed for intensive care within 24 hours), half of them are intensive care. The hospital consists of solid buildings that will have to last several decades.
Sources: https://demikhova.ru/mkcib-voronovskoe/, https://stroi.mos.ru/infiektsionnaia-bol-nitsa-v-novoi-moskvie
About Evropeyskaya Elektrotekhnica Group of Companies
• Evropeyskaya Elektrotekhnica Group of Companies (MOEX: EELT) offers comprehensive solutions in the field of engineering and technological systems for industrial, construction and infrastructural purposes: low and medium voltage distribution equipment, low current systems, lighting systems, industrial electric heating systems and equipment for the Oil&Gas and petrochemical industries.
• As a Russian joint-stock company with high corporate governance standards and financial sustainability, the Company's Mission is to improve people's quality of life with its entrepreneurial vigour and engineering competencies.
• The Company was founded in 2004 and unites a distribution center, engineering departments, an electrical laboratory and specialized production facilities. The company is one of the largest electrical equipment distributors in the Russian Federation and an industrial partner of leading companies on the international engineering market.
• The Company's logistics capabilities include delivery (including non-standard and oversize load) to customers throughout Russia, including hard-to-reach Northern areas, as well as to Central Asia, North Africa and the Middle East.
• The Company has its own production of the following equipment:
Complete transformer substations;

Medium voltage units;

Low voltage panels of up to 6,300A (including metro solutions);

Electric lighting systems;

Industrial electric heating systems;

Cabling and wiring products.
• Areas of application of the Company's competences:
Oil&Gas industry;

Electric power sector;

Peaceful atom,

Steel and mining industry;

Engineering;

Transport infrastructure, water supply and sanitation.
• Evropeyskaya Elektrotekhnica's customers include major Russian companies: Rosneft, Gazprom, NOVATEK, LUKOIL, Sibur and Nizhnekamskneftekhim. Supplies were successfully implemented for the following projects: Power of Siberia, Yamal LNG, Smolensk NPP, Data Center of Sberbank of Russia, the Domodedovo, Sheremetyevo, and Pulkovo Airports, etc.
• New areas of Company activity starting from 2018 include development and production of the following:
Modular equipment for the Oil&Gas and petrochemical industries (Company subsidiary ROG-Engineering, Ufa, Republic of Bashkortostan, Russian Federation);

Industrial specialized solutions for metro substations (currently being consolidated into the Group's structure: Metrotonnel, Moscow, Russian Federation);

Industrial electric heating systems.
• Key financial indicators of PJSC Evropeyskaya Elektrotekhnica (IFRS):
Revenue

(RUB billion)

Profit for the period

(RUB million)

Assets

(RUB billion)

2019

3.27

298.9

1.83

2018

3.29

293.1

1.29

2017

2.60

134.7

1.15
The personnel headcount is around 350 people. Since September 2017, common shares of PJSC Evropeyskaya Elektrotekhnica are traded on the Moscow Exchange with trading code EELT.
In June 2018, the company was named Import Substitution Leader at the Leader of Competitive Sales annual national awards, in which 450 domestic suppliers from various industries took part.
Contacts:
PJSC Evropeyskaya Elektrotekhnica
Tel.: +7 (800) 600-71-18
Mailing address: 1 Lyotchika Babushkina Street, Building 3, Moscow, 129344
| | |
| --- | --- |
| Press contacts | Contact for investors and analysts |
For more information, please contact:
Stanislav Martyushev
Director for Corporate Communications and Investor Relations
PJSC Evropeyskaya Elektrotekhnica
Tel. +7 (495) 660-71-18 ext. 164
Find us on social media:
FACEBOOK TWITTER INSTAGRAM VKONTAKTE LINKEDIN YOUTUBE