Management comments: EVROPEYSKAYA ELEKTROTEKHNICA CONTINUES TO CONTRIBUTE TO THE RISE OF RUSSIAN LNG INFRASTRUCTURE
16.04.2020
Management comments: EVROPEYSKAYA ELEKTROTEKHNICA CONTINUES TO CONTRIBUTE TO THE RISE OF RUSSIAN LNG INFRASTRUCTURE
EVENT (April 2020):
Nuclear-powered LASH carrier Sevmorput unloaded materials and equipment for the Arctic LNG 2 project carried out by JSC «NOVATEK». Over 20,000 freight units of general cargo with a total weight of
7,500 tons
were delivered to the Utrenneye field in the Gydan Peninsula (YNAO).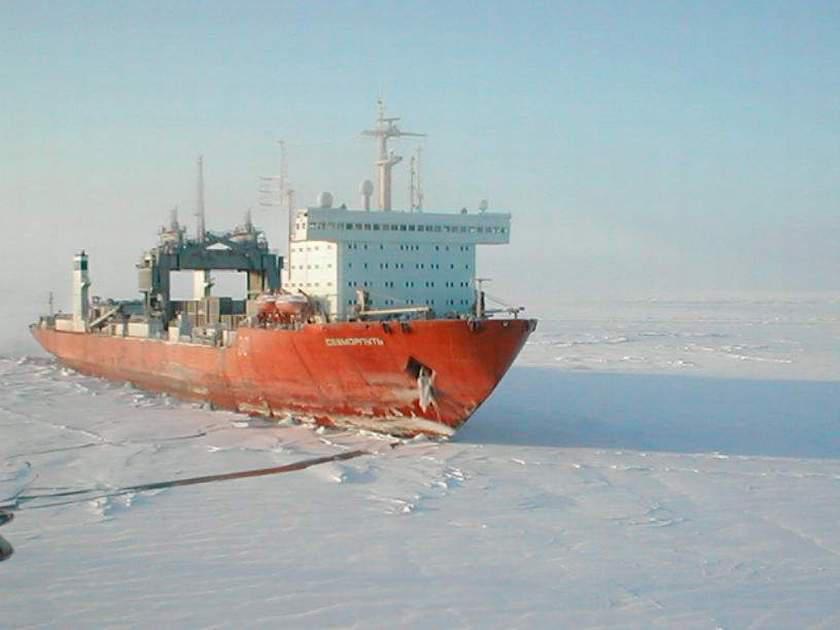 Image source: link
STATEMENT FROM MANAGEMENT:
Ilya Kalenkov, General Director of PJSC Evropeyskaya Elektrotekhnica, noted in this regard: "Our productive cooperation with NOVATEK has already gone beyond the first decade. We have energetically provided deliveries for several well-known projects of this customer, including Yamal LNG.
To date, we continue to make deliveries for a large-scale project — Arctic LNG 2 — that comprise a wide range of engineering equipment and materials: industrial lighting systems, lighting protection and grounding systems, fireproof cable penetrations, cable support systems, and cable-conductor products.
From our experience of implementing similar projects in terms of their type and scale, we are also ready to offer additional categories of equipment according to the needs of our customer:
for the Engineering Systems direction: switchboards, industrial electric heating systems, explosion-proof electrical equipment, and electrical installation products;

for the Process Systems direction (equipment for gas fields): flares, metering units, gas separation equipment, pumping stations of the fleet management, mobile complexes for well exploration and development, and fuel gas preparation units.
We highly appreciate the professional trust of such a respected customer in our engineering and logistics competencies and in our approaches to managing large, long and geographically distributed projects."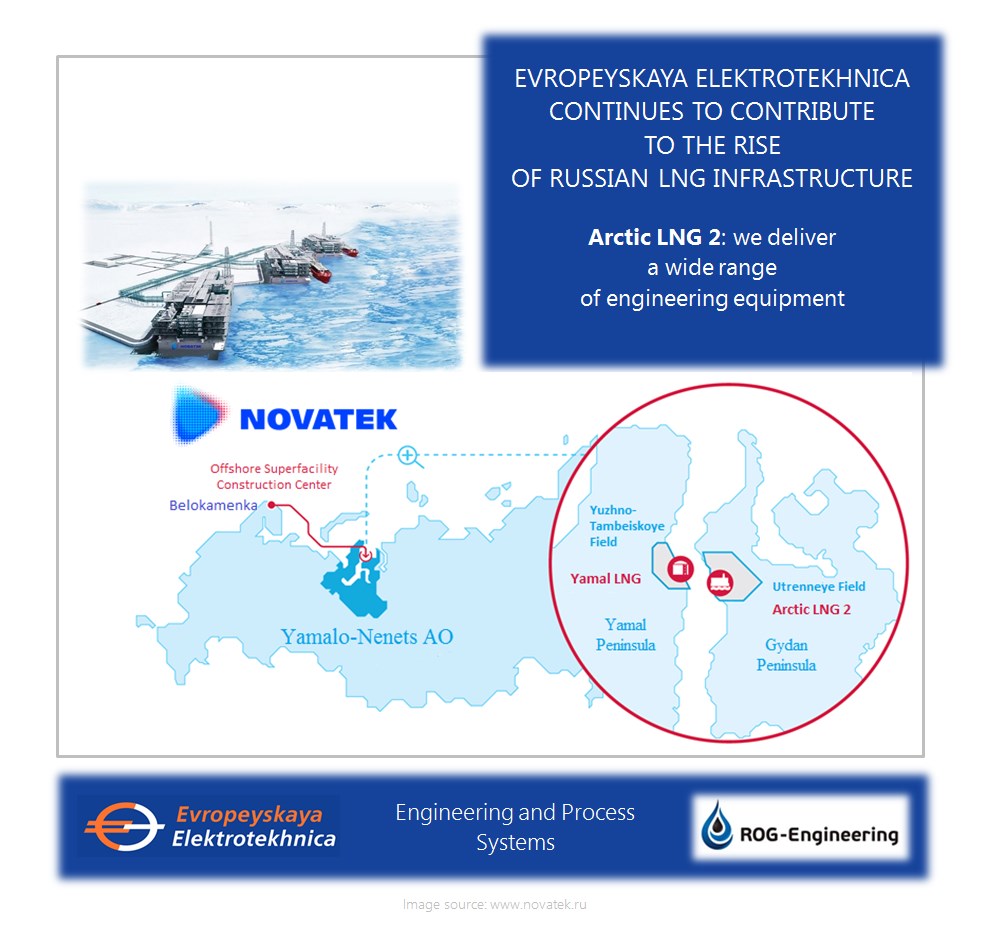 FOR REFERENCE:
Arctic LNG 2 is an ambitious project by JSC «NOVATEK» dedicated to the production of liquefied natural gas (LNG).
The project envisages the construction of three LNG trains with a total capacity of 19.8 mtpa of LNG each, as well as stable gas condensate of up to 1.6 mtpa.
Capital investment to launch the project at its full capacity is estimated at USD 21.3 billion.
The Arctic LNG 2 resource base is the Utrenneye field, which is located in Gydan Peninsula in YNAO, approximately 70 km across the Ob Bay from Yamal LNG. Field reserves (Russian classification): 1,978 billion cubic meters of natural gas and 105 mmt of liquid hydrocarbons.
Arctic LNG 2 highlights:
- In 2018, the front-end engineering design (FEED) was completed and site preparation, construction of early phase power supply facilities, production wells drilling, and construction of the quayside started.
- In September 2019, the final investment decision on project implementation was made.
- Launch of the first train is scheduled for 2023 with a phased commissioning of facilities in 2023–2025.
Source: http://www.novatek.ru/ru/business/arctic-lng/
About Evropeyskaya Elektrotekhnica Group of Companies
• Evropeyskaya Elektrotekhnica Group of Companies (MOEX: EELT) offers comprehensive solutions in the field of engineering and technological systems for industrial, construction and infrastructural purposes: low and medium voltage distribution equipment, low current systems, lighting systems, industrial electric heating systems and equipment for the Oil&Gas and petrochemical industries.
• As a Russian joint-stock company with high corporate governance standards and financial sustainability, the Company's Mission is to improve people's quality of life with its entrepreneurial vigour and engineering competencies.
• The Company was founded in 2004 and unites a distribution center, engineering departments, an electrical laboratory and specialized production facilities. The company is one of the largest electrical equipment distributors in the Russian Federation and an industrial partner of leading companies on the international engineering market.
• The Company's logistics capabilities include delivery (including non-standard and oversize load) to customers throughout Russia, including hard-to-reach Northern areas, as well as to Central Asia, North Africa and the Middle East.
• The Company has its own production of the following equipment:
Complete transformer substations;

Medium voltage units;

Low voltage panels of up to 6,300A (including metro solutions);

Electric lighting systems;

Industrial electric heating systems;

Cabling and wiring products.
• Areas of application of the Company's competences:
Oil&Gas industry;

Electric power sector;

Peaceful atom,

Steel and mining industry;

Engineering;

Transport infrastructure, water supply and sanitation.
• Evropeyskaya Elektrotekhnica's customers include major Russian companies: Rosneft, Gazprom, NOVATEK, LUKOIL, Sibur and Nizhnekamskneftekhim. Supplies were successfully implemented for the following projects: Power of Siberia, Yamal LNG, Smolensk NPP, Data Center of Sberbank of Russia, the Domodedovo, Sheremetyevo, and Pulkovo Airports, etc.
• New areas of Company activity starting from 2018 include development and production of the following:
Modular equipment for the Oil&Gas and petrochemical industries (Company subsidiary ROG-Engineering, Ufa, Republic of Bashkortostan, Russian Federation);

Industrial specialized solutions for metro substations (currently being consolidated into the Group's structure: Metrotonnel, Moscow, Russian Federation);

Industrial electric heating systems.
• Key financial indicators of PJSC Evropeyskaya Elektrotekhnica (IFRS):
Revenue

(RUB billion)

Profit for the period

(RUB million)

Assets

(RUB billion)

9 months of 2019

2.60

239.2

1.72

2018

3.29

293.1

1.29

2017

2.60

134.7

1.15
350 people – the personnel headcount.
EELT – the trading code for common shares of PJSC Evropeyskaya Elektrotekhnica on the Moscow Exchange, where shares are traded since September 2017.
BBB- (RU), stable outlook – the credit rating of PJSC Evropeyskaya Elektrotekhnica is at the investment level; the rating confirmed by ACRA on January 30, 2020.
Contacts:
PJSC Evropeyskaya Elektrotekhnica
Tel.: +7 (800) 600-71-18
Mailing address: 1 Lyotchika Babushkina Street, Building 3, Moscow, 129344
| | |
| --- | --- |
| Press contacts | Contact for investors and analysts |
For more information, please contact:
Stanislav Martyushev
Director for Corporate Communications and Investor Relations
PJSC Evropeyskaya Elektrotekhnica
Tel. +7 (495) 660-71-18 ext. 164
Find us on social media:
FACEBOOK TWITTER INSTAGRAM VKONTAKTE LINKEDIN YOUTUBE