Evropeyskaya Elektrotekhnica contributed its engineering expertise to the successful launch of the world's first floating nuclear thermoelectric plant
20.12.2019
Evropeyskaya Elektrotekhnica contributed its engineering expertise to the successful launch of the world's first floating nuclear thermoelectric plant
December 20, 2019. Moscow — PJSC Evropeyskaya Elektrotekhnica (hereinafter — the Company or Group), one of the leaders in the Russian engineering market, successfully implemented two contracts for JSC Atomenergo to create an electric heating system for the world's first floating nuclear thermoelectric plant in August 2019.
Our Company specialists designed EE-HITFLEX electric heating cable systems for water supply and sewage pipelines, as well as for an off-site water supply pipeline for the construction of coastal infrastructure of the floating nuclear thermoelectric plant (a project implemented by Rosatom State Corporation).
Our team designed all working documents in full compliance with the customer's requirements for JSC Atomenergo, manufactured and delivered heating parts and control cabinets, and put the equipment into operation. The project uses components from our reliable partner Schneider Electric (France).
The project provides technical solutions for electric heating of over 5 kilometers of pipelines with self-regulating heat tapes. For the off-site water supply pipelines, outdoor cabinets were specially developed, which are capable of operating in the harsh climatic conditions of the Far North.
The floating nuclear thermoelectric plant was created based on a floating power unit with KLT-40S reactor units in Pevek (Chukotka Autonomous Okrug). Today, on December 19, 2019, the plant supplied the first electric power to the isolated network of Chaun-Bilibinsky unit in Chukotka Autonomous Okrug.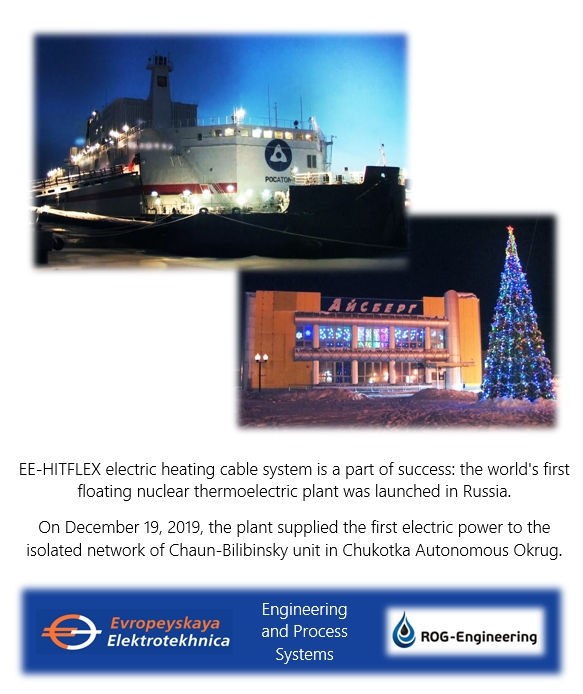 Ilya Kalenkov, General Director of PJSC Evropeyskaya Elektrotekhnica, commented on the event: "Pevek is the northernmost town of Russia. It is located in the north of Chukotka, on the coast of the Arctic Ocean, in a region with a very severe climate. For four months a year, the average temperature in Pevek drops below 20 degrees Celsius, and the average temperature rises slightly above zero degrees for only four months a year. There are often strong winds and snowstorms for several days. Nine months a year, the humidity level is above 80%.
In such difficult climatic conditions, the critical importance of energy and utility infrastructure for the northern city is unquestionable. The Chaunskaya CHPP, the only plant in the town, is over 70 years old and its process equipment shows the corresponding signs of wear. Therefore, the successful launch of the floating nuclear thermoelectric plant is a huge event in the life of northerners as it provides a reliable source of electricity and heat, along with fundamentally new opportunities for the local manufacturing industry. This achievement by Russian nuclear scientists and shipbuilders significantly increased the importance of Pevek as a major logistics center for the Northern Sea Route, for northern delivery.
During this project, we used the EE-HITFLEX industrial heating system once more — a result of our 2018 R&D program.
We managed to deliver the projects to the customer within the agreed time limits, and with all the specified parameters.
We take great pride and satisfaction in the recognition of our contribution to improving the key infrastructure of the Russian North. We also express our gratitude to the customer for the confidence placed in our Company's engineering solutions. We wish the best of luck to Rosenergoatom Concern specialists with regard to commissioning the floating nuclear thermoelectric plant in 2020, and providing the connection of the new thermal power plant to the thermal networks in Pevek."
FOR REFERENCE:
The floating nuclear thermoelectric plant was constructed based on Akademik Lomonosov floating power unit of project 20870. This is the main project of a series of mobile transportable power units of low power.
The floating nuclear thermoelectric plant has a high margin of safety for external conditions. The plant is equipped with two KLT-40S icebreaker-type reactor units, which are capable of producing up to 70 MW of electric power and 50 Gcal/h of heat, which is enough to provide energy to a town with a population of about 100,000 people. It can also be used for desalination of seawater (estimated from 40,000 to 240,000 cubic meters of fresh water per day).
This is a unique project that has no equivalents in the world, and Russia is a pioneer in its implementation. For this reason, the facility is now receiving special attention. Today, many countries are interested in the floating nuclear thermoelectric plant, including: South‑East Asia (Malaysia, Indonesia, Thailand) and the Middle East (Saudi Arabia, United Arab Emirates, Qatar).
SC Rosatom is currently working on the second generation floating nuclear thermoelectric plant, an optimized floating power unit that will be smaller and more powerful than its predecessor. It is planned to be equipped with two RITM-200M reactors with a total capacity of 100 MW.
Sources:
https://www.rosenergoatom.ru/development/innovatsionnye-razrabotki/razrabotka-proektov-aes-s-reaktor...
,
https://en.wikipedia.org/wiki/Akademik_Lomonosov
About Evropeyskaya Elektrotekhnica Group of Companies
• Evropeyskaya Elektrotekhnica Group of Companies (MOEX: EELT) offers comprehensive solutions in the field of engineering and technological systems for industrial, construction and infrastructural purposes: low and medium voltage distribution equipment, low current systems, lighting systems, industrial electric heating systems and equipment for the Oil&Gas and petrochemical industries.
• As a Russian joint-stock company with high corporate governance standards and financial sustainability, the Company's Mission is to improve people's quality of life with its entrepreneurial vigour and engineering competencies.
• The Company was founded in 2004 and unites a distribution center, engineering departments, an electrical laboratory and specialized production facilities. The company is one of the largest electrical equipment distributors in the Russian Federation and an industrial partner of leading companies on the international engineering market.
• The Company's logistics capabilities include delivery (including non-standard and oversize load) to customers throughout Russia, including hard-to-reach Northern areas, as well as to Central Asia, North Africa and the Middle East.
• The Company has its own production of the following equipment:
Complete transformer substations;

Medium voltage units;

Low voltage panels of up to 6,300A (including metro solutions);

Electric lighting systems;

Industrial electric heating systems;

Cabling and wiring products.
• Areas of application of the Company's competences:
Oil&Gas industry;

Electric power sector;

Peaceful atom,

Steel and mining industry;

Engineering;

Transport infrastructure, water supply and sanitation.
• Evropeyskaya Elektrotekhnica's customers include major Russian companies: Rosneft, Gazprom, NOVATEK, LUKOIL, Sibur and Nizhnekamskneftekhim. Supplies were successfully implemented for the following projects: Power of Siberia, Yamal LNG, Smolensk NPP, Data Center of Sberbank of Russia, the Domodedovo, Sheremetyevo, and Pulkovo Airports, etc.
• New areas of Company activity starting from 2018 include development and production of the following:
Modular equipment for the Oil&Gas and petrochemical industries (Company subsidiary ROG-Engineering, Ufa, Republic of Bashkortostan, Russian Federation);

Industrial specialized solutions for metro substations (currently being consolidated into the Group's structure: Metrotonnel, Moscow, Russian Federation);

Industrial electric heating systems.
• Key financial indicators of PJSC Evropeyskaya Elektrotekhnica (IFRS):
Revenue

(RUB billion)

Profit for the period

(RUB million)

Assets

(RUB billion)

9 months of 2019

2.60

239.2

1.72

2018

3.29

293.1

1.29

2017

2.60

134.7

1.15
350 people – the personnel headcount.
EELT – the trading code for common shares of PJSC Evropeyskaya Elektrotekhnica on the Moscow Exchange, where shares are traded since September 2017.
BBB- (RU), stable outlook – the credit rating of PJSC Evropeyskaya Elektrotekhnica is at the investment level; the rating confirmed by ACRA on January 30, 2020.
Contacts:
PJSC Evropeyskaya Elektrotekhnica
Tel.: +7 (800) 600-71-18
Mailing address: 1 Lyotchika Babushkina Street, Building 3, Moscow, 129344
| | |
| --- | --- |
| Press contacts | Contact for investors and analysts |
For more information, please contact:
Stanislav Martyushev
Director for Corporate Communications and Investor Relations
PJSC Evropeyskaya Elektrotekhnica
Tel. +7 (495) 660-71-18 ext. 164
Find us on social media:
FACEBOOK TWITTER INSTAGRAM VKONTAKTE LINKEDIN YOUTUBE