Lighting for Neva Towers: Evropeyskaya Elektrotekhnica illuminates one of the brightest multi-purpose complexes in Moscow-City
03.12.2019
Lighting for Neva Towers: Evropeyskaya Elektrotekhnica illuminates one of the brightest multi-purpose complexes in Moscow-City
December 3, 2019. Moscow — PJSC Evropeyskaya Elektrotekhnica (hereinafter, the "Company" or "Group"), one of the leaders on the Russian engineering market, continues to implement the project to create exterior and interior lighting systems for the Neva Towers multi-purpose complex in the Moscow-City International Business Center in Moscow.
The complex is being built by developer company Renaissance Development, which is part of the Renaissance international holding (Turkey). One of the features of Neva Towers is a 4-story stylobate, which will offer unique recreational opportunities for the residents of the complex.
Ilya Kalenkov, General Director of PJSC Evropeyskaya Elektrotekhnica, commented on the project implementation: "We have been cooperating with Renaissance Development for over two years. Usually, in cooperation with developers, we are dealing with the challenge of creating interior and exterior lighting systems.
For example, as part of this landmark project, we have supplied over 1,500 lighting fixtures manufactured in Germany, Spain, Poland, and Italy. We provided lighting for the main lobby (entrance space of the complex), common areas including the fitness center, lounge area, park with a stylobate pool, landscape and driveways in front of the complex with lamps specially modified to suit the size and capacity requirements stated by architects.
The ongoing large-scale project demonstrates our ability and skill to respond flexibly to the Customer's regularly changing needs. We highly appreciate the trust that Renaissance Development and Renaissance Construction (general contractor) have in our competence, reliability in terms of deliveries and the services we provide.
The second construction stage of the Neva Towers complex is to start soon. This means the continuation of mutually beneficial cooperation between our companies."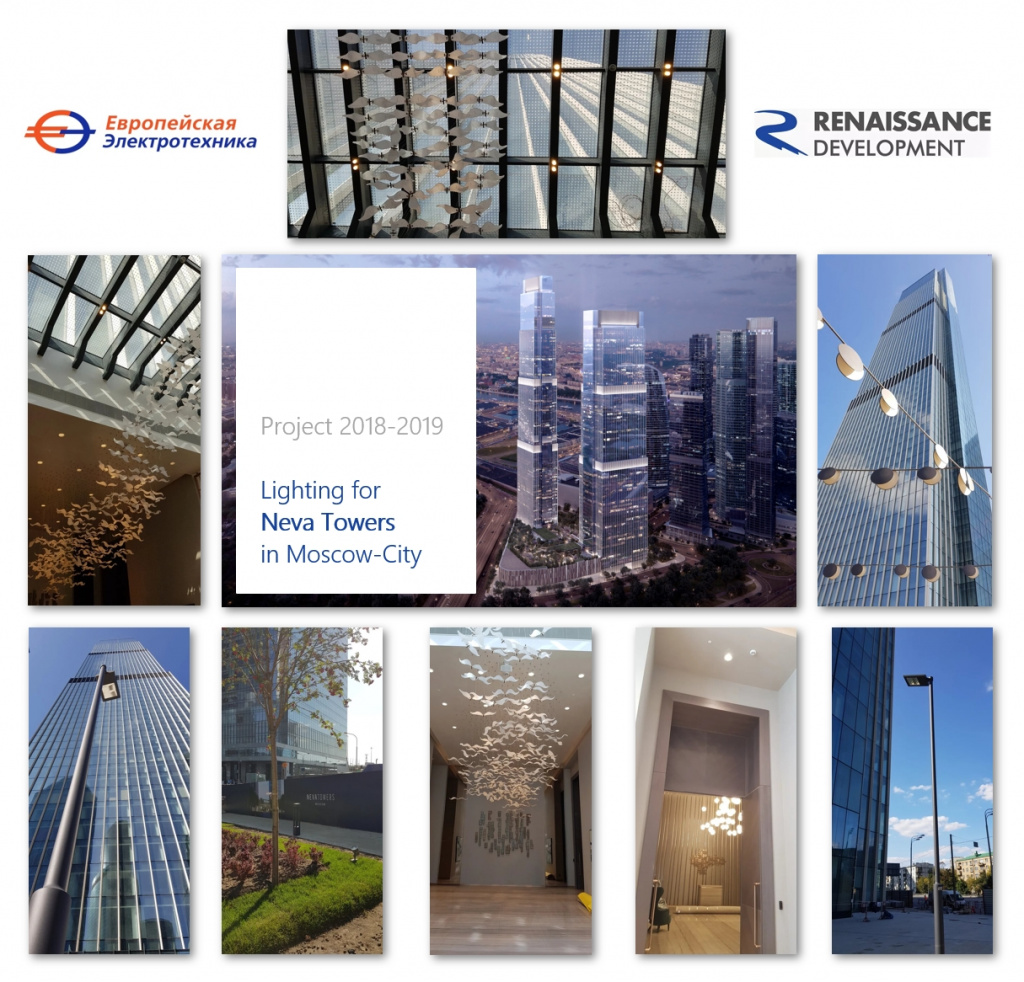 This project involves a wide range of Evropeyskaya Elektrotekhnica's competencies and services:
engineering consulting;

lighting design;

assistance in mockup preparation for the Customer (supply of lighting fixtures for demonstrations);

customization: refining and painting lighting fixtures to match the interior's colors, changing power and implementing emergency power systems;

supply of lighting equipment;

installation supervision.
FOR REFERENCE:
The Neva Towers multi-purpose complex is a flagship project of the Renaissance holding (Turkey; a top 10 European construction holding), which is being built in the Moscow International Business Center Moscow-City.
The complex consists of two towers (65 and 79 stories), united by a stylobate.
The first stage of Neva Towers, a 79-story building with 848 apartments and a total area of 186,100 square meters, was put into operation in November 2019.
The main function of the complex is residential; 26 stories of one of the towers will be occupied by office, while a shopping gallery, restaurants and cafes are planned for the stylobate area.
The complex is built in accordance with the requirements of LEED and is expected to receive a Gold category certificate, which will make it the first residential project in Russia to be in this category. Green building is a practice of constructing and operating buildings with the aim to reduce the level of energy and material resource consumption throughout the building's life cycle.
The unique features of the project are green areas that are sizeable for the city center, including a private park with an outdoor pool located on the roof of the 4-story stylobate, for the apartment owners to use.
The project architectural team consists of: SPEECH (Russia), HOK (USA), FXFOWLE (USA).
The Neva Towers parking lot has capacity for 2,040 vehicles.
Sources: http://www.nevatowers.ru/about, http://www.nevatowers.ru/news/76
About Evropeyskaya Elektrotekhnica Group of Companies
• Evropeyskaya Elektrotekhnica Group of Companies (MOEX: EELT) offers comprehensive solutions in the field of engineering and technological systems for industrial, construction and infrastructural purposes: low and medium voltage distribution equipment, low current systems, lighting systems, industrial electric heating systems and equipment for the Oil&Gas and petrochemical industries.
• As a Russian joint-stock company with high corporate governance standards and financial sustainability, the Company's Mission is to improve people's quality of life with its entrepreneurial vigour and engineering competencies.
• The Company was founded in 2004 and unites a distribution center, engineering departments, an electrical laboratory and specialized production facilities. The company is one of the largest electrical equipment distributors in the Russian Federation and an industrial partner of leading companies on the international engineering market.
• The Company's logistics capabilities include delivery (including non-standard and oversize load) to customers throughout Russia, including hard-to-reach Northern areas, as well as to Central Asia, North Africa and the Middle East.
• The Company has its own production of the following equipment:
Complete transformer substations;

Medium voltage units;

Low voltage panels of up to 6,300A (including metro solutions);

Electric lighting systems;

Industrial electric heating systems;

Cabling and wiring products.
• Areas of application of the Company's competences:
Oil&Gas industry;

Electric power sector;

Peaceful atom,

Steel and mining industry;

Engineering;

Transport infrastructure, water supply and sanitation.
• Evropeyskaya Elektrotekhnica's customers include major Russian companies: Rosneft, Gazprom, NOVATEK, LUKOIL, Sibur and Nizhnekamskneftekhim. Supplies were successfully implemented for the following projects: Power of Siberia, Yamal LNG, Smolensk NPP, Data Center of Sberbank of Russia, the Domodedovo, Sheremetyevo, and Pulkovo Airports, etc.
• New areas of Company activity starting from 2018 include development and production of the following:
Modular equipment for the Oil&Gas and petrochemical industries (Company subsidiary ROG-Engineering, Ufa, Republic of Bashkortostan, Russian Federation);

Industrial specialized solutions for metro substations (currently being consolidated into the Group's structure: Metrotonnel, Moscow, Russian Federation);

Industrial electric heating systems.
• Key financial indicators of PJSC Evropeyskaya Elektrotekhnica (IFRS):
Revenue

(RUB billion)

Profit for the period

(RUB million)

Assets

(RUB billion)

9 months of 2019

2.60

239.2

1.72

2018

3.29

293.1

1.29

2017

2.60

134.7

1.15
350 people – the personnel headcount.
EELT – the trading code for common shares of PJSC Evropeyskaya Elektrotekhnica on the Moscow Exchange, where shares are traded since September 2017.
BBB- (RU), stable outlook – the credit rating of PJSC Evropeyskaya Elektrotekhnica is at the investment level; the rating confirmed by ACRA on January 30, 2020.
Contacts:
PJSC Evropeyskaya Elektrotekhnica
Tel.: +7 (800) 600-71-18
Mailing address: 1 Lyotchika Babushkina Street, Building 3, Moscow, 129344
| | |
| --- | --- |
| Press contacts | Contact for investors and analysts |
For more information, please contact:
Stanislav Martyushev
Director for Corporate Communications and Investor Relations
PJSC Evropeyskaya Elektrotekhnica
Tel. +7 (495) 660-71-18 ext. 164
Find us on social media:
FACEBOOK TWITTER INSTAGRAM VKONTAKTE LINKEDIN YOUTUBE