Evropeyskaya Elektrotekhnica carried out its first deliveries of cable and wire products to Zvezda shipyard
28.03.2019
Evropeyskaya Elektrotekhnica carried out its first deliveries of cable and wire products to Zvezda shipyard
March 28, 2019. Moscow — PJSC Evropeyskaya Elektrotekhnica (hereinafter — the "Company" or "Group"), a leading company in the Russian engineering market, carried out its first deliveries of cable and wire products to a Zvezda shipyard.
The range of delivered products covered power and instrumentation cables with an aim to meeting the own needs of Zvezda shipyard.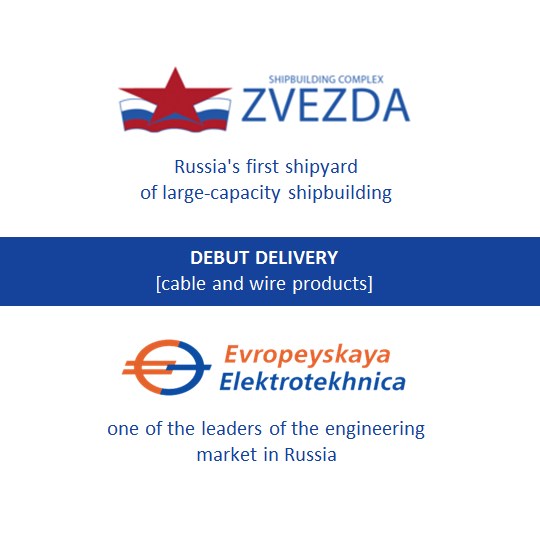 Ilya Kalenkov, General Director of PJSC Evropeyskaya Elektrotekhnica, commented on the event: "These first deliveries are the next step towards our mutually beneficial partnership with Rosneft Group of Companies. We highly appreciate the trust that the leading company in the Russian shipbuilding industry puts in us as its supplier. We hope to expand the scope of cooperation with the shipbuilding complex in 2019."
REFERENCE:
Shipbuilding Complex Zvezda is being established on the basis of the Far Eastern Shipbuilding and Ship Repair Center by the Consortium of JSC Rosneftegaz, PJSC Rosneft Oil Company, and JSC Gazprombank (hereinafter — FESRC). Rosneft, which has reached an exclusive agreement with the FESRC on placing all orders for the construction of new marine equipment and vessels at its facilities, ensures the first loading of the complex.
The product line of Zvezda will include vessels with a displacement of up to 350 thousand tons, elements of marine platforms, ice class vessels, commercial vessels for transportation of goods, special vessels and other types of marine technology of any complexity, features and purposes, including equipment which previously was not produced in Russia due to the lack of necessary launch and hydraulic structures. By the end of the project, the capacity of the shipyard for metal processing will exceed 330 thousand tons a year.
To date, there are 26 vessels in the order portfolio of Zvezda shipyard:
— four multifunctional ice class supply vessels;
— ten Aframax tankers;
— ten Arctic shuttle tankers with a deadweight of 42 thousand tons;
— an Arctic shuttle tanker with a deadweight of 69 thousand tons;
— a shallow-draft icebreaker.
Sources: http://www.sskzvezda.ru/index.php/ru/news
About Evropeyskaya Elektrotekhnica Group of Companies
• Evropeyskaya Elektrotekhnica Group of Companies (MOEX: EELT) offers comprehensive solutions in the field of engineering and technological systems for industrial, construction and infrastructural purposes: low and medium voltage distribution equipment, low current systems, lighting systems, industrial electric heating systems and equipment for the Oil&Gas and petrochemical industries.
• As a Russian joint-stock company with high corporate governance standards and financial sustainability, the Company's Mission is to improve people's quality of life with its entrepreneurial vigour and engineering competencies.
• The Company was founded in 2004 and unites a distribution center, engineering departments, an electrical laboratory and specialized production facilities. The company is one of the largest electrical equipment distributors in the Russian Federation and an industrial partner of leading companies on the international engineering market.
• The Company's logistics capabilities include delivery (including non-standard and oversize load) to customers throughout Russia, including hard-to-reach Northern areas, as well as to Central Asia, North Africa and the Middle East.
• The Company has its own production of the following equipment:
Complete transformer substations;

Medium voltage units;

Low voltage panels of up to 6,300A (including metro solutions);

Electric lighting systems;

Industrial electric heating systems;

Cabling and wiring products.
• Areas of application of the Company's competences:
Oil&Gas industry;

Electric power sector;

Peaceful atom,

Steel and mining industry;

Engineering;

Transport infrastructure, water supply and sanitation.
• Evropeyskaya Elektrotekhnica's customers include major Russian companies: Rosneft, Gazprom, NOVATEK, LUKOIL, Sibur and Nizhnekamskneftekhim. Supplies were successfully implemented for the following projects: Power of Siberia, Yamal LNG, Smolensk NPP, Data Center of Sberbank of Russia, the Domodedovo, Sheremetyevo, and Pulkovo Airports, etc.
• New areas of Company activity starting from 2018 include development and production of the following:
Modular equipment for the Oil&Gas and petrochemical industries (Company subsidiary ROG-Engineering, Ufa, Republic of Bashkortostan, Russian Federation);

Industrial specialized solutions for metro substations (currently being consolidated into the Group's structure: Metrotonnel, Moscow, Russian Federation);

Industrial electric heating systems.
• Key financial indicators of PJSC Evropeyskaya Elektrotekhnica (IFRS):
Revenue

(RUB billion)

Profit for the period

(RUB million)

Assets

(RUB billion)

9 months of 2018

2.6

224.3

1.47

2017

2.6

134.7

1.15
The personnel headcount is around 400 people. Since September 2017, common shares of PJSC Evropeyskaya Elektrotekhnica are traded on the Moscow Exchange with trading code EELT.
In June 2018, the company was named Import Substitution Leader at the Leader of Competitive Sales annual national awards, in which 450 domestic suppliers from various industries took part.
Contacts:
PJSC Evropeyskaya Elektrotekhnica
Tel.: +7 (800) 600-71-18
Mailing address: 1 Lyotchika Babushkina Street, Building 3, Moscow, 129344
| | |
| --- | --- |
| Press contacts | Contact for investors and analysts |
For more information, please contact:
Stanislav Martyushev
Director for Corporate Communications and Investor Relations
PJSC Evropeyskaya Elektrotekhnica
Tel. +7 (495) 660-71-18 ext. 164
Find us on social media:
FACEBOOK TWITTER INSTAGRAM VKONTAKTE LINKEDIN YOUTUBE Yandex.Zen